All efforts are to help: what has the Rinat Akhmetov Foundation done in 60 days of war
24.04.2022
A full-scale war in Ukraine has been going on for 60 days. All this time, the people of Ukraine are constantly supporting the country with their courage and willingness to help each other in the fight against the enemy and in face of Ukraine's approaching victory.
From the first days of the new stage of the war, the Rinat Akhmetov Foundation focuses all of its efforts on helping people in need. First and foremost, we are talking about humanitarian aid - food packages for the temporarily displaced and the most vulnerable people of Ukraine and medicines for public hospitals.
In 60 days of the large-scale war, the Rinat Akhmetov Foundation has provided charity help: more than 540,000 units of medicines, more than 60,000 hemocontainers and more than 130,000 food packages to the people of Ukraine. Food packages of the charity help included condensed milk, flour, pasta, sugar, wheat groats, pate, and canned stews. They were distributed in coordination with local authorities, while the distribution of medicines was coordinated with the Ministry of Health of Ukraine. During this time, humanitarian aid from the Foundation has covered 940,000 people.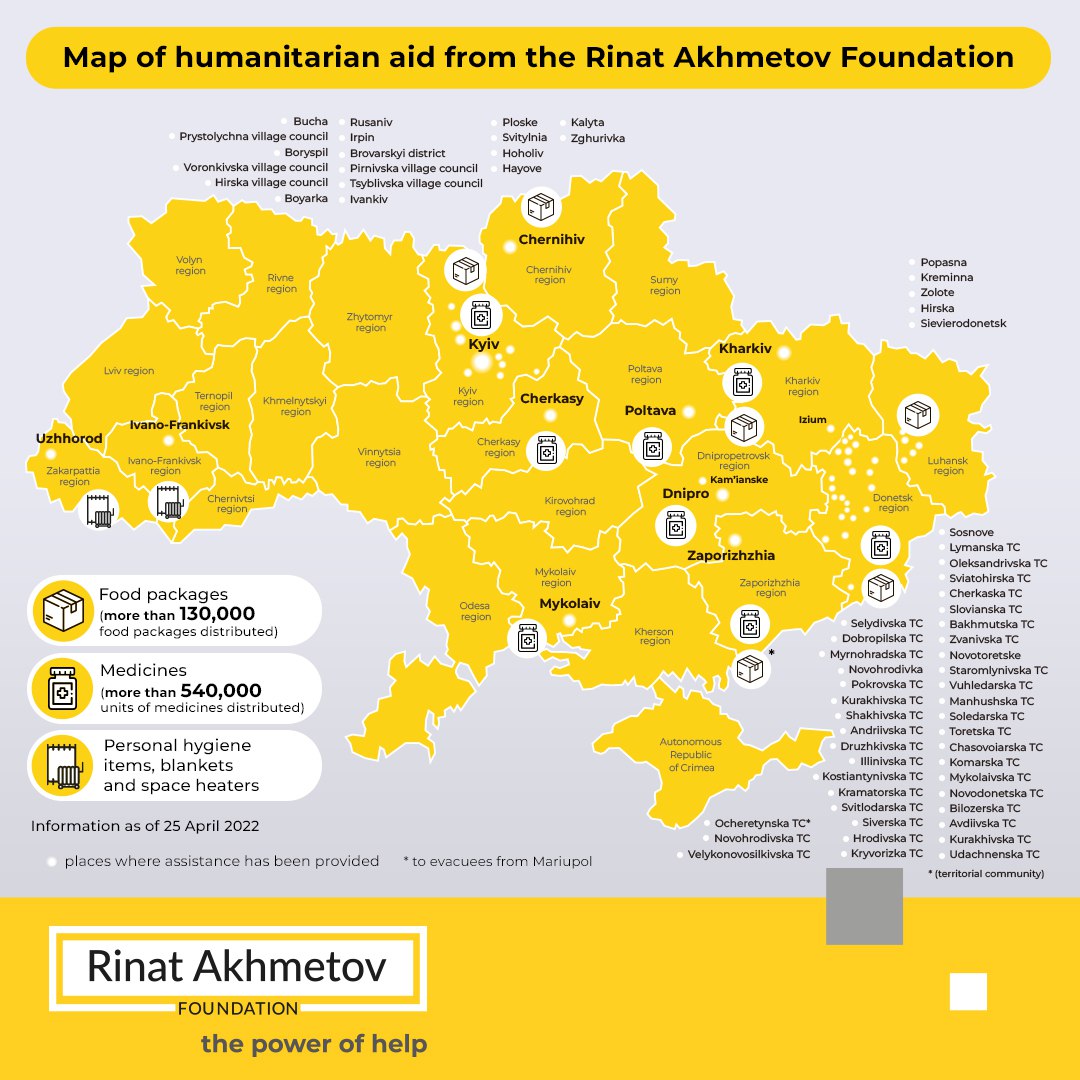 One of the priorities of the Foundation's work is psychological support, which is especially needed by those who have escaped from the epicenter of hostilities. The Rinat Akhmetov Foundation in Zaporizhia has opened emergency psychological assistance points for people evacuated from Mariupol and Volnovakha. Professional psychologists of the Foundation help people cope with the first shock.
In 60 days, the Rinat Akhmetov Foundation's hotline received more than 18,000 appeals. The largest number of appeals about how to get aid from the Rinat Akhmetov foundation was registered in those regions that suffered the most from the war.
Since 2014, the unique Museum of Civilian Voices of the Rinat Akhmetov Foundation has been collecting the world's largest archive of stories of civilians affected by the war. The Museum's archive is a first-hand source of information about life during the war, as well as a psychotherapeutic project for people who have survived the trauma of war and share their stories.
It should be noted that the charity help is provided under the program "Rinat Akhmetov - Saving Lives". In 16 years of work, the Rinat Akhmetov Foundation has helped 8 million people survive, of which 3.5 million were rescued in Donbass