Lysychansk doctors received a high-end ventilator from the Rinat Akhmetov Foundation and DTEK
12.11.2020
On 11 November, the Rinat Akhmetov Foundation and DTEK transferred a ventilator manifactured in France to the doctors of Lysychansk Multi-Field Hospital. The equipment was delivered within the framework of the project Fighting COVID-19 in Ukraine, which became part of the large program Rinat Akhmetov – Saving Lives.
"To help the country fight the coronavirus infection, Rinat Akhmetov allocated UAH 300 million and combined the resources of his charitable foundation, FC Shakhtar and all the assets of SCM Group. During the pandemic, the Rinat Akhmetov Foundation and businesses have already transferred 337,000 rapid tests, over 200,000 personal protective equipment and supplies, 1,044 units of medical and laboratory equipment, including oxygen concentrators, patient monitors, oximeters, irradiators, analyzers, PCR test systems, and much more to state hospitals. The Foundation purchased 204 ventilators doctors required most of all. They are transferred not only to large clinics, but also to hospitals in small towns, such as Lysychansk," Natalya Yemchenko, a member of the Supervisory Board of the Rinat Akhmetov Foundation, said.
DTEK representative Vitalii Shevchenko noted that Fighting COVID-19 in Ukraine is a unique project that has no analogues in the country.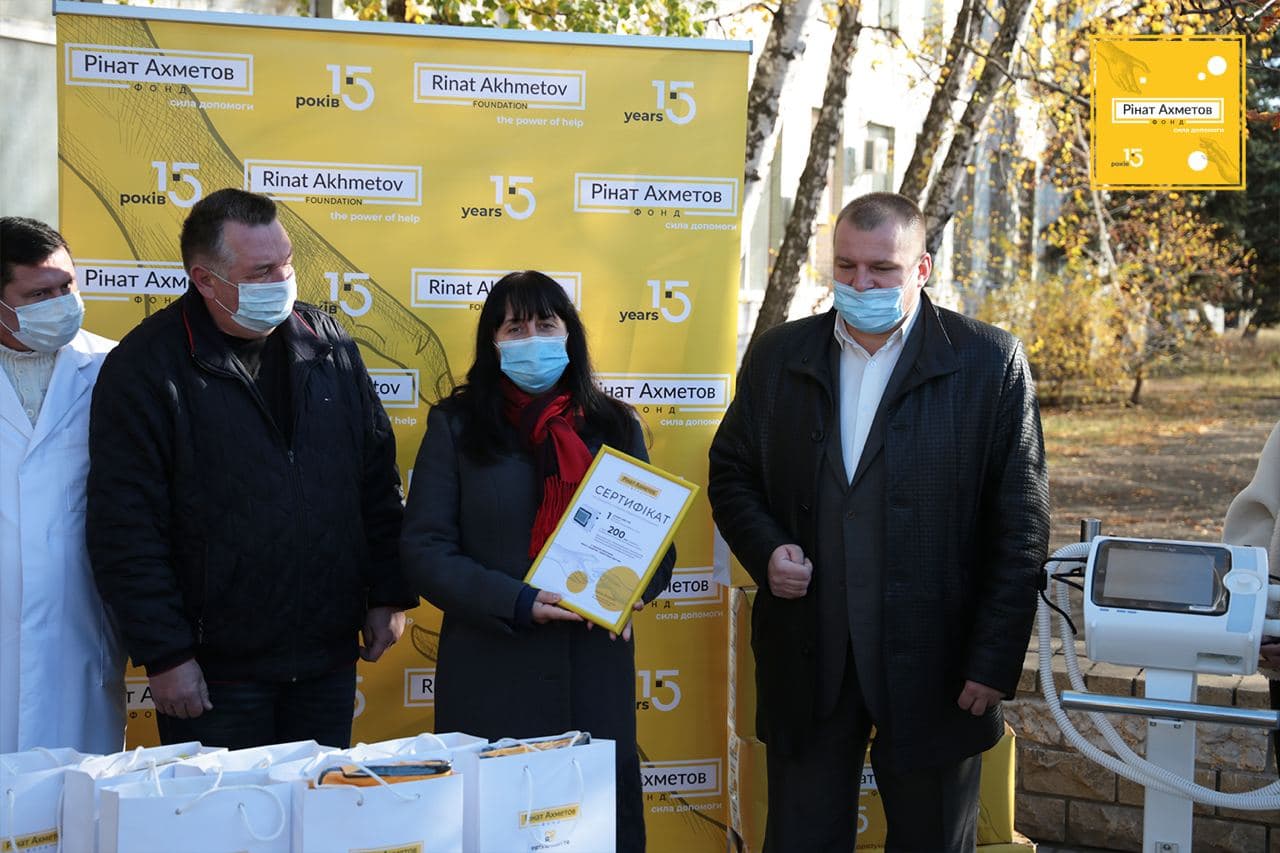 This is the largest, most systematic and large-scale private initiative aimed at helping state medical institutions in the fight against coronavirus. We see the pandemic gaining steam. So we continue to fight it by joining our forces in order to save lives. DTEK's Luhansk TPP operates here. So our power engineers live with their families, and we will continue to support the region in such a difficult time," Vitalii Shevchenko said.
Deputy Chairman of the Luhansk Regional State Administration, Kateryna Bezhinska, noted that the Rinat Akhmetov Foundation was the first organisation that provides systemic help regional medicine.
"I sincerely thank the Rinat Akhmetov Foundation for providing timely assistance to medical institutions in Luhansk Oblast. This wonderful device manufactured in France will be very affective to save people's lives," Kateryna Bezhinska said.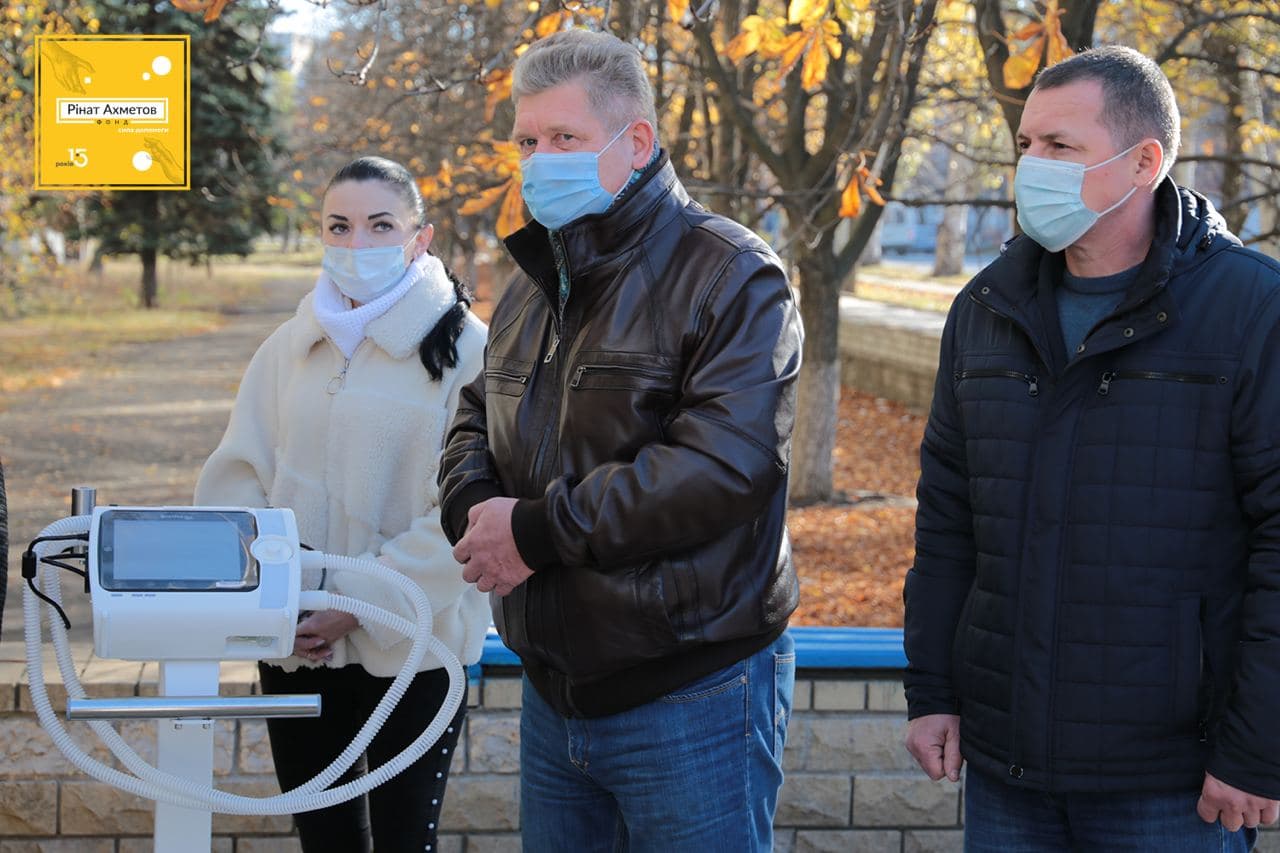 Oleksandr Reshtanenko, head of the Anesthesiology and Intensive Care Department of Lysychansk Multi-Field Hospital, noted that business participation in helping the healthcare system is extremely important these days.
"This disease takes many lives. Therefore, it is important to join all our forces. If it wasn't for the business sector, the disaster would have been much worse. I would like to express my gratitude to the Rinat Akhmetov Foundation for bringing these ventilators. They have already saved more than one life," Oleksandr Reshtanenko said.
Along with the ventilator, the doctors of the intensive care unit received individual sets of medical clothing from the Foundation.
Since the beginning of the coronavirus epidemic, state hospitals in Lviv, Ivano-Frankivsk, Luhansk, Zaporizhzhia, Donetsk, Dnipropetrovsk, Poltava, Ternopil, Rivne, Zakarpattia and Kharkiv Oblasts, as well as in Kyiv, have received modern ventilators from the Rinat Akhmetov Foundation.
Fighting COVID-19 in Ukraine is a large-scale project of the Foundation created to help save people's lives. It is implemented under the program Rinat Akhmetov – Saving Lives. Earlier, Rinat Akhmetov launched 200 Ambulances for Ukraine, which was was implemented as part of this program. Back then, all regional state medical institutions received 200 special vehicles with state-of-the-art military equipment that can get over off-road conditions within the record time of six months. Moreover, 22 vehicles equiped with ventilators`for newborns were also delivered. This is the largest contribution made by one philanthropist to the state medicine of Ukraine since our country became independent. These days, many of these ambulances are involved in the fight against the coronavirus epidemic.
Read more about the Rinat Akhmetov Foundation's assistance to the country in the fight against COVID-19 in the review materials:
1. Stop coronavirus in Ukraine: the chronicles of the Rinat Akhmetov Foundation's assistance to the country
2. Combating coronavirus: the assistance by the Rinat Akhmetov Foundation to stop the epidemic in Ukraine. Part 2