Doctors in Druzhkivka Received Modern Oxygen Concentrators from the Rinat Akhmetov Foundation and VESCO
10.12.2021
The Rinat Akhmetov Foundation together with VESCO PJSC donated three modern oxygen concentrators to the Infectious Diseases Department of Druzhkivka Municipal Clinical Hospital No. 1. This modern equipment will help doctors save the lives of patients with complications from COVID-19.
'When Ukraine faced the COVID-19 pandemic, Rinat Akhmetov was the first to come to aid. To address the country's most essential healthcare needs, Rinat Akhmetov pooled together the resources of his Charitable Foundation, FC Shakhtar and other SCM Group's businesses. The Founder of the Foundation allocated almost UAH 500 million for the fight against the coronavirus under the project Fighting COVID-19 in Ukraine, which is part of the program Rinat Akhmetov – Saving Lives. This is the largest contribution of one philanthropist to the public healthcare sector of Ukraine since the country's independence. More than 500 healthcare institutions across the country received over 1,000 pieces of equipment, including 216 lung ventilators and 162 oxygen concentrators. More than 200,000 units of personal protective equipment have been donated to public hospitals. Doctors also received 337,000 rapid COVID-19 tests, and 1,044 units of medical and laboratory equipment from the Foundation,' said Iryna Blazhan, Project and Program Chief Director of the Rinat Akhmetov Foundation.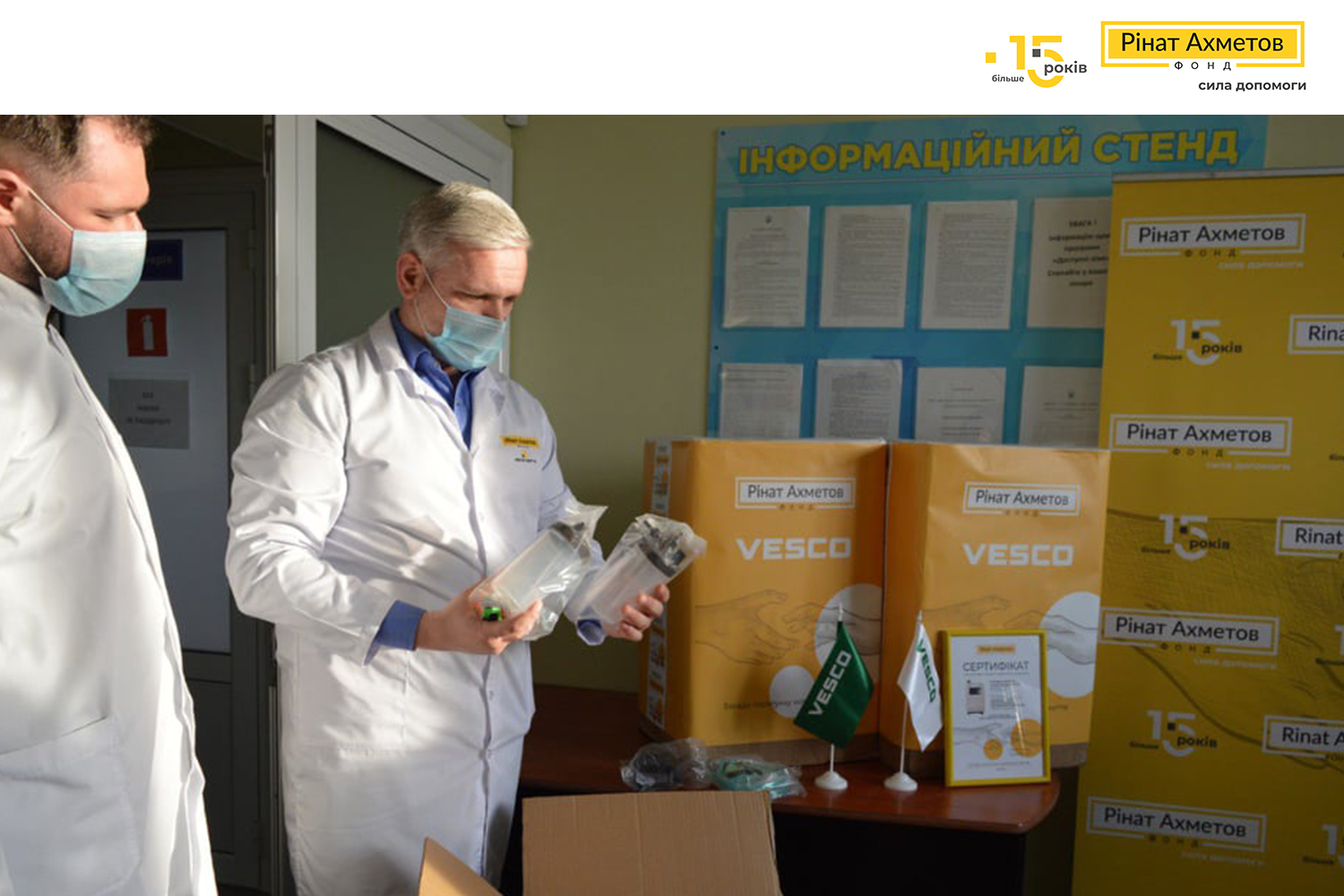 Currently, the department is designed for 60 beds where patients with coronavirus receive inpatient treatment. Many of them need oxygen support in particular.
'Every year VESCO invests over UAH one million in the development of Druzhkivka community. Social partnership agreements help improve the lives of residents by always addressing some pressing issues. During the pandemic, assistance to healthcare institutions became a priority of our cooperation. Together with the Rinat Akhmetov Foundation, we provide assistance to doctors and healthcare institutions realizing that overcoming of this challenge is in their hands. I am sure that this equipment will save many lives and will help patients recover as quickly as possible,' said Yevhen Tsymarman, CEO of VESCO PJSC.
According to the Chief Physician of Druzhkivka Municipal Clinical Hospital No. 1, it is very important that such an initiative of the Rinat Akhmetov Foundation to fight COVID-19 in Ukraine continues to be consistently implemented on the ground.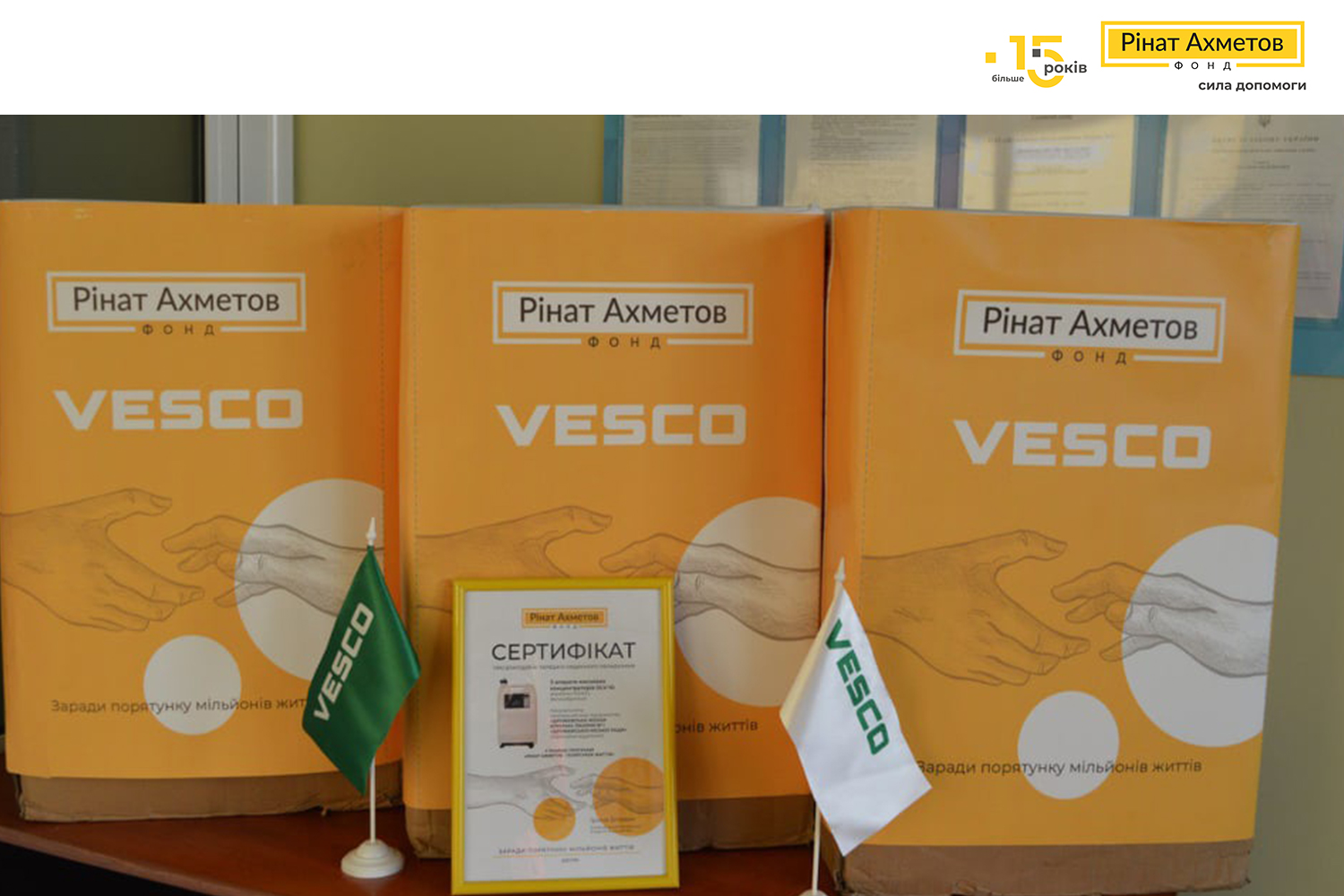 'Currently, our department, which can accommodate 60 patients, has only 17 oxygen concentrators, but potentially each of the patients needs to use this device. Thanks to the help of the Rinat Akhmetov Foundation and VESCO PJSC, we will be able to extend the capacity of our institution in the treatment of patients with coronavirus,' said Maksym Bandura. 
Project Fighting COVID-19 in Ukraine is the largest, systematic and broad-scale private initiative aimed at helping public health institutions in the fight against the new disease. The scale of assistance is unprecedented, and thanks to the project, the quality of medical services in the country has been improved.