The Rinat Akhmetov Foundation turns 15! Program Rinat Akhmetov to Children. Say No to Orphanhood! protects children's rights
17.07.2020
On 15 July, the Rinat Akhmetov Foundation celebrated the 15th anniversary. Those were years of very important and necessary work. The Foundation has always tried to be a headliner and has undertaken the most ambitious and very difficult tasks the Ukrainian society had to deal with. This includes assistance to the victims of the War in Donbass and save patients with COVID-19. One of these no less challenging goals is to help young orphans find a new family and have the right to a better life. The program Rinat Akhmetov to Children. Say No to Orphanhood! has been performing this task for  more than a decade. This is one of the longest and most  extensive programs of the Foundation. And what is very important – it was very effective and useful for millions of Ukrainians.
The numbers speak for themselves! 15 years ago, more than 10,000 children were looking for a new family, and the number of adopted children barely reached 3000. Now we  have a radically opposite situation: 4865 children are waiting for their parents, and 9544 have already found their families! And this is all owing to the contribution of many caring people – presidential children's rights commissioners, managers and employees of the Ministry of Social Policy, social workers, employed at the Office of the Children's Commissioner, and philanthropists, among which program Rinat Akhmetov to Children. Say No to Orphanhood! has always singled out  with incredible warmth.
Family values are among the priorities for the Rinat Akhmetov Foundation. Therefore, it will do everything possible to ensure that children from boarding schools grow up and are brought up in families.
Back in 2008, thanks to the Foundation, the first family-type children's homes (FTCH) were created.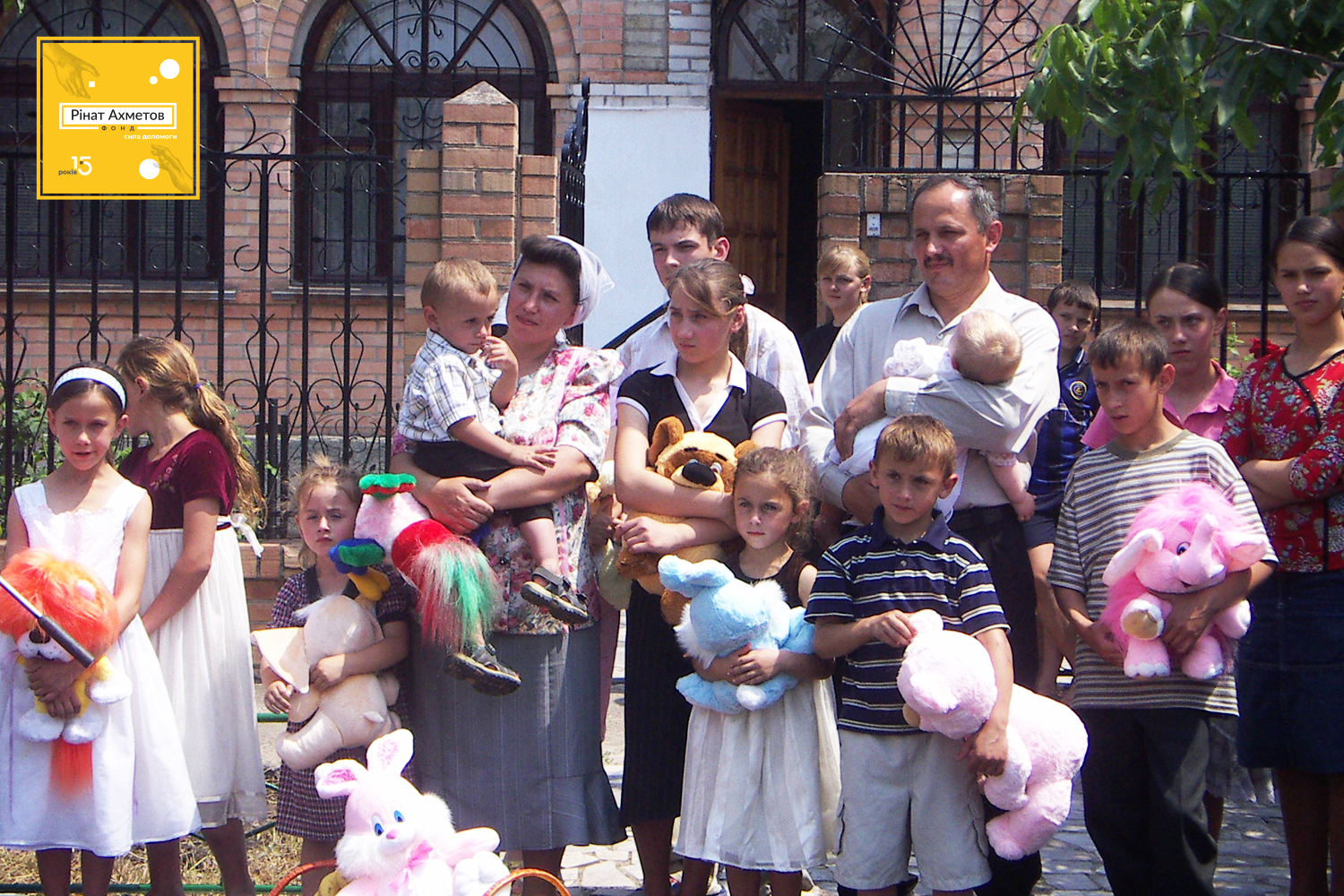 In 2009, the all-Ukrainian Adoption Portal was created — www.sirotstvy.net.
In 2012, the Foundation became a headliner, training future FTCH foster parents and foster families. Since then, thanks to program Development of Family Education Structures, children and adults have taken part in annual trainings and seminars, celebrations and even football matches. The Foundation initiates videos, cartoons and animated films shootings, focusing on orphanhood problems. It conducts research and educational work along with the relevant leading institutes, and FTCH parents and children, foster families and adoptive parents receive financial assistance and the opportunity for their children to relax in summer camps. These historical steps of the program Rinat Akhmetov to Children. Say No to Orphanhood! are worth to be specified separately.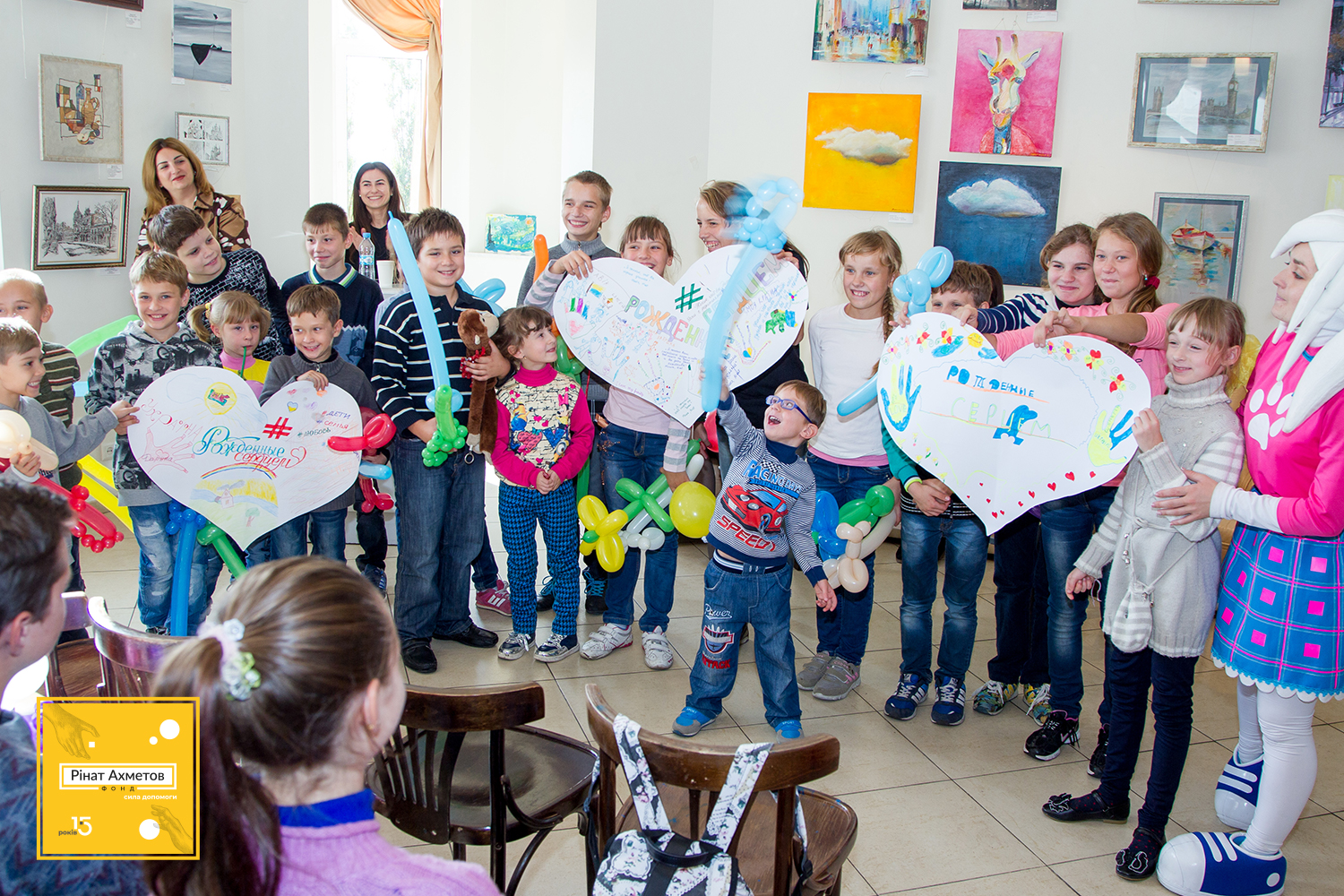 www.sirotstvy.net started with a single page on the website of the Rinat Akhmetov Foundation. There were just photos and brief information about a child, that he/she is looking for a family, and whether he/she has any siblings. Due to the impressive result, because all the children soon found their families – on 9 December 2009, a portal of national adoption appeared for the Ukrainians who want to adopt or take a child into foster care, as well as for those who are still thinking about this issue and want to communicate anonymously with the adoptive parents. Now the portal is visited by more than 4.5 million users every year!
Adoptive parents Anastasiya and Oleksandr Konstantinovy from Kropyvnytskyi first saw their eldest daughter Vika on the portal sirotstvy.net. "In 2013, they closed the topic of adoption and the family who wished to adopt solved all the issues secretly from others. sirotstvy.net it was the only resource where you could view children's profiles. Therefore, I have started my day with the portal for almost 10 months every day.  They supported me here by  providing questionnaires and answers to my endless questions. Consultants cheered me up, inspired me, and prompted me. It is fair to say that I just lived on this web-site until I saw our Vika! We still have a photo of what her profile on the portal. Then the girl was only 10 months old. She weighed only 6 kg and could not even turn over in her box. Doctors said she would live less than a year!
My daughter had so many diagnoses that a mere look at her card scared our family doctor. At first, the doctor offered to apply for disability benefits. But we did not agree, we gradually did all planned surgeries, constantly underwent treatment and withdrew all diagnoses!
Now our Vikusya is a gymnast. She participates in competitions, and learns poems. She has a lot of love, although she lived almost on her own until she was a year old, and she didn't even cry because she didn't understand why.
We really appreciate what the Rinat Akhmetov Foundation program does. We are so grateful for Vikusya, for the love and care that the program's specialists sincerely give to all future parents!"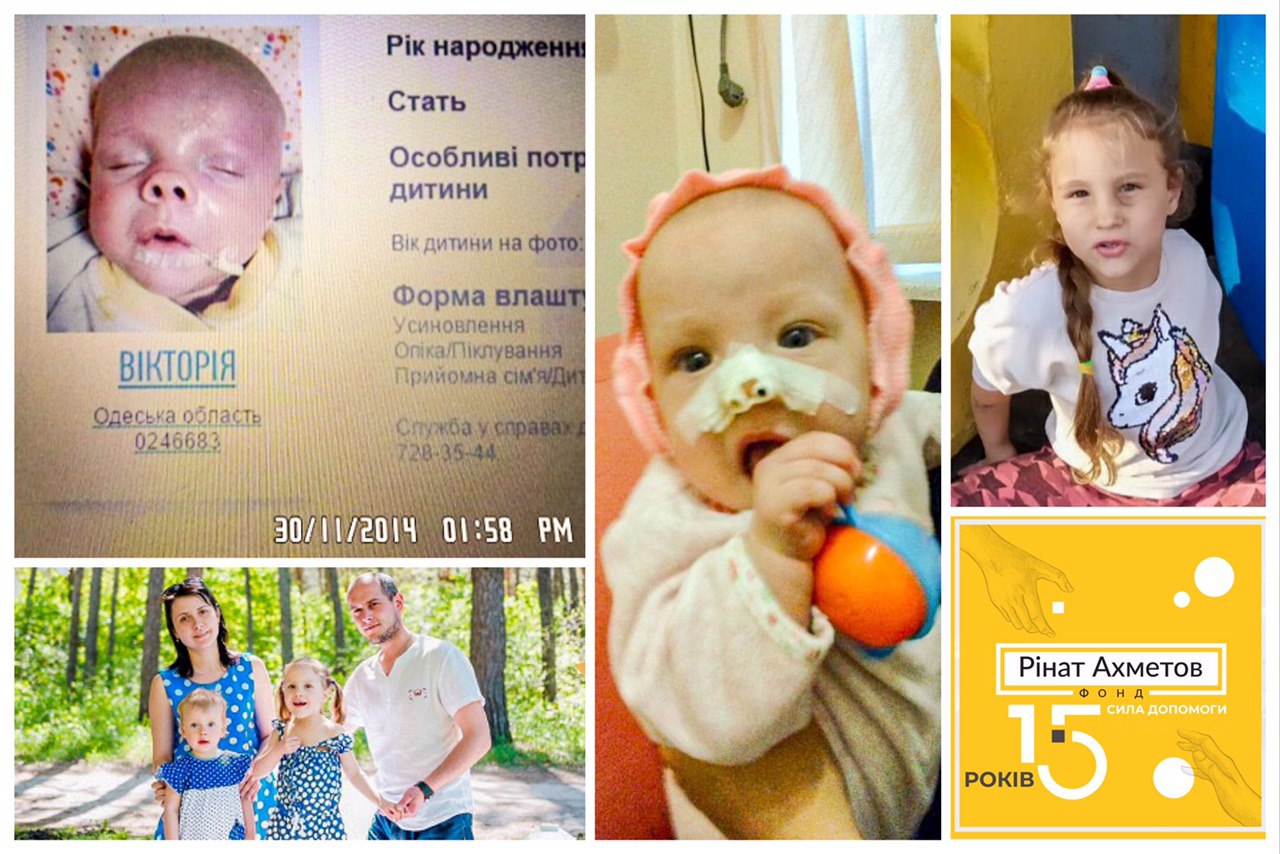 Specialists of the portal Rinat Akhmetov to Children. Say No to Orphanhood! travel hundreds of kilometers every month for eleven years in order to meet with orphaned children and create unique photo or video stories about each of them. But when it all started, getting into institutions and getting permission to photograph orphaned children was very difficult. To implement it, the Foundation first agreed and signed a Memorandum of Cooperation with the chairmen of regional state administrations. By the way, the first region in Ukraine to sign a Memorandum of Cooperation under the program Rinat Akhmetov to Children. Say No to Orphanhood! was Dnipropetrovsk Oblast. This ensured that a year later (in 2011) Dnipropetrovsk Oblast took a leading position in arranging orphans and children deprived of parental care into family education structures.
Donetsk Oblast, Luhansk Oblast, Volyn Oblast, Lviv Oblast, Ivano-Frankivsk Oblast and other regions followed Dnipropetrovsk and joined the program Rinat Akhmetov to Children. Say No to Orphanhood!.
In 2016, the Foundation signed a long-awaited Memorandum of Cooperation with the Ministry of Social Policy throughout Ukraine. 
Recently, on 2 June 2020, this Memorandum between the Rinat Akhmetov Foundation and the Ministry of Social Policy regarding the cooperation and countering orphanhood was renewed.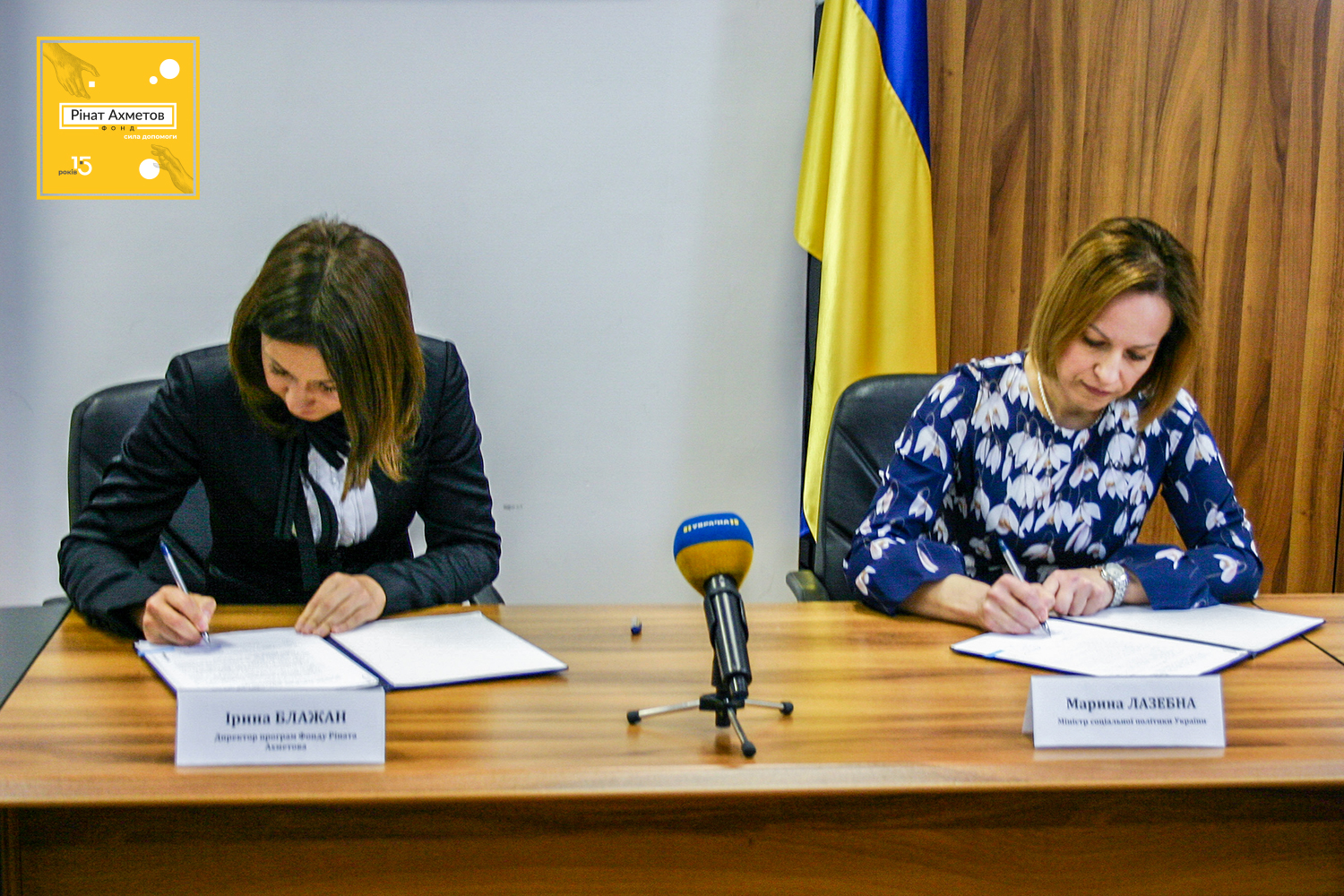 This is what allows the Foundation to fruitfully fulfill its mission – to do everything so that every child would have their own caring mother and father. Furthermore, it is very nice to know that after the rotation of videos on the portal sirotstvy.net, Facebook page of the program Rinat Akhmetov to Children. Say No to Orphanhood! and TV channels TRK Ukraina, Indigo and NLO-TV every fifth child was adopted. And then happy families sent joint photos to the portal, with their joyful smiles and glowing eyes.
The family of Bohdana and Roman Holodov from Ivano-Frankivsk is currently raising four children, two of them — Roma and Denys —were found on the portal sirotstvy.net. "Back then, the portal sirotstvy.net was the only resource where you could see both photos and videos. Every day we looked through questionnaires and read different stories. We have been performing our search for almost a year. One day I saw two brothers from  Odessa Oblast on the portal. They read poetry very well on the video, posted on the website My husband and I thought: why not? We were even happy to have children from afar. It seemed to me that it would be better for children to completely change the environment, the area, to start a new life. And there were no children of this age in our oblasts. My husband and I realized almost from the first day — they were to be ours! And although we traveled between Odessa and Ivano-Frankivsk for almost two months while the documents were being prepared, the happiest moment of our life was when Roma and Denyska were at home!
We really appreciate the work the program Rinat Akhmetov to Children. Say No to Orphanhood! does and its solicitude concerning orphaned children and such a great  portal sirotstvy.net, which inspires us to become adoptive parents and give a better life to two wonderful children."