The Rinat Akhmetov Foundation delivered three ventilators to Pavlohrad Intensive Care Hospital
22.10.2020
Pavlohrad Intensive Care Hospital received three modern ventilators from the Rinat Akhmetov Foundation and DTEK.
The purchase of over 200 high-end ventilators was crucial to assist the country within the framework of the Rinat Akhmetov Foundation's project Fighting COVID-19 in Ukraine. Over 150 high-quality ventilators from the Rinat Akhmetov Foundation were delivered to the main hospitals in 12 oblasts of the country. The first of them were transferred in March 2020. Both large clinics in regional centers and small hospitals in Ukrainian regions are receiving the equipment, making modern European medicine available to everyone," Natalya Yemchenko, member of the Supervisory Board of the Foundation, said.
According to Administrative Manager, Andrii Chernetskyi, of DTEK Pavlohraduhol, these devices will help doctors treat patients today.
"The fight against the coronavirus continues. We see how the pandemic is getting up steam and setting anti-records. We continue to join forces and support medicine to save lives. Rinat Akhmetov was the first to help the country and allocated UAH 300 million to fight the coronavirus. This is the largest contribution made by one philanthropist to help Ukrainian state medicine. To address the country's critical medical needs, Rinat Akhmetov has combined the resources of his businesses, including DTEK," Andrii Chernetskyi said.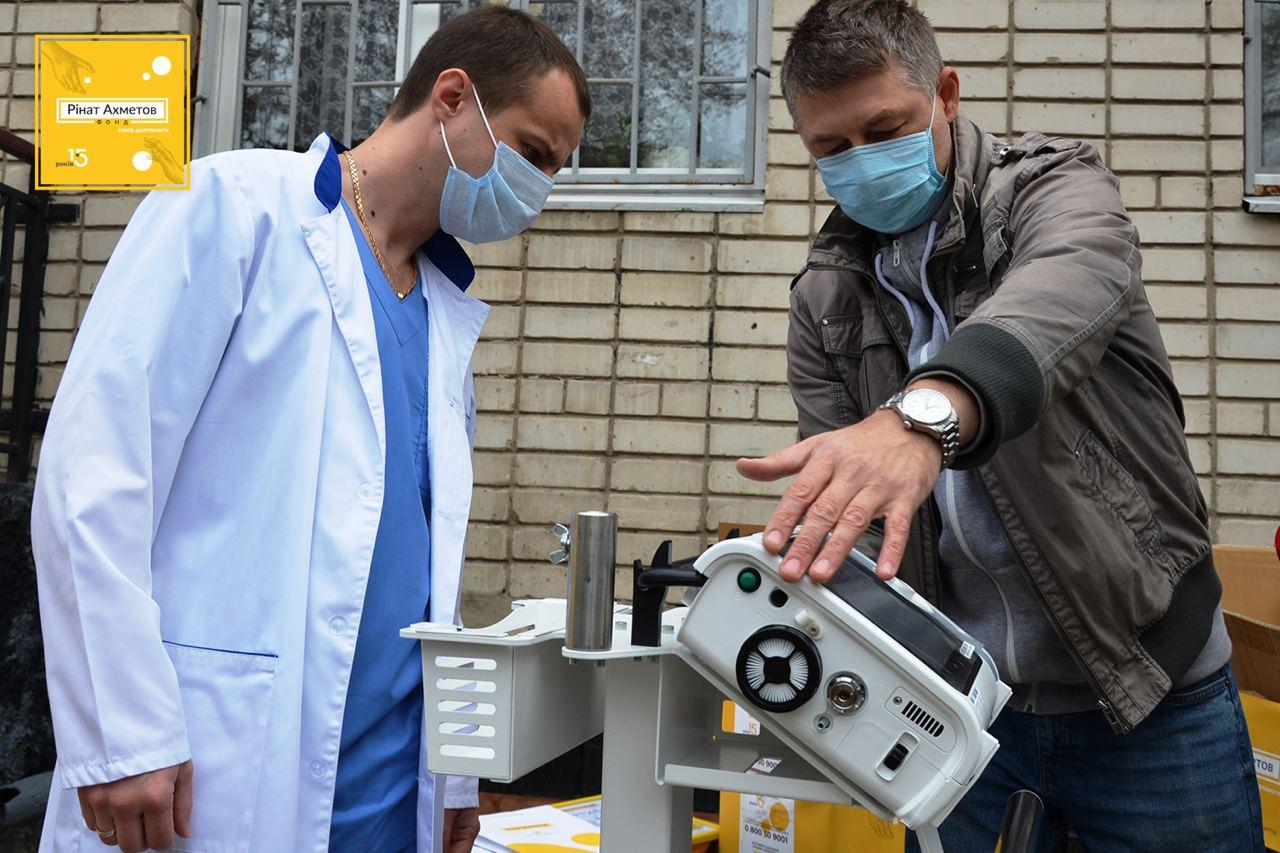 According to Svitlana Patsko, Deputy Mayor of Pavlohrad, such assistance deserves a huge appreciation,
"Thank you so much on behalf of the mayor to the Rinat Akhmetov Foundation. Everything that you do is an invaluable help. Ventilators will help our doctors save critically ill patients in the future.
"Our hospital provides emergency care to coronavirus patients throughout the western part of Donbass. We have already treated 200 such patients, as well as 400 patients with pneumonia. Therefore, the ventilator provided by the Foundation are very important for us, Deputy Director of the hospital, Olena Hulydina, said.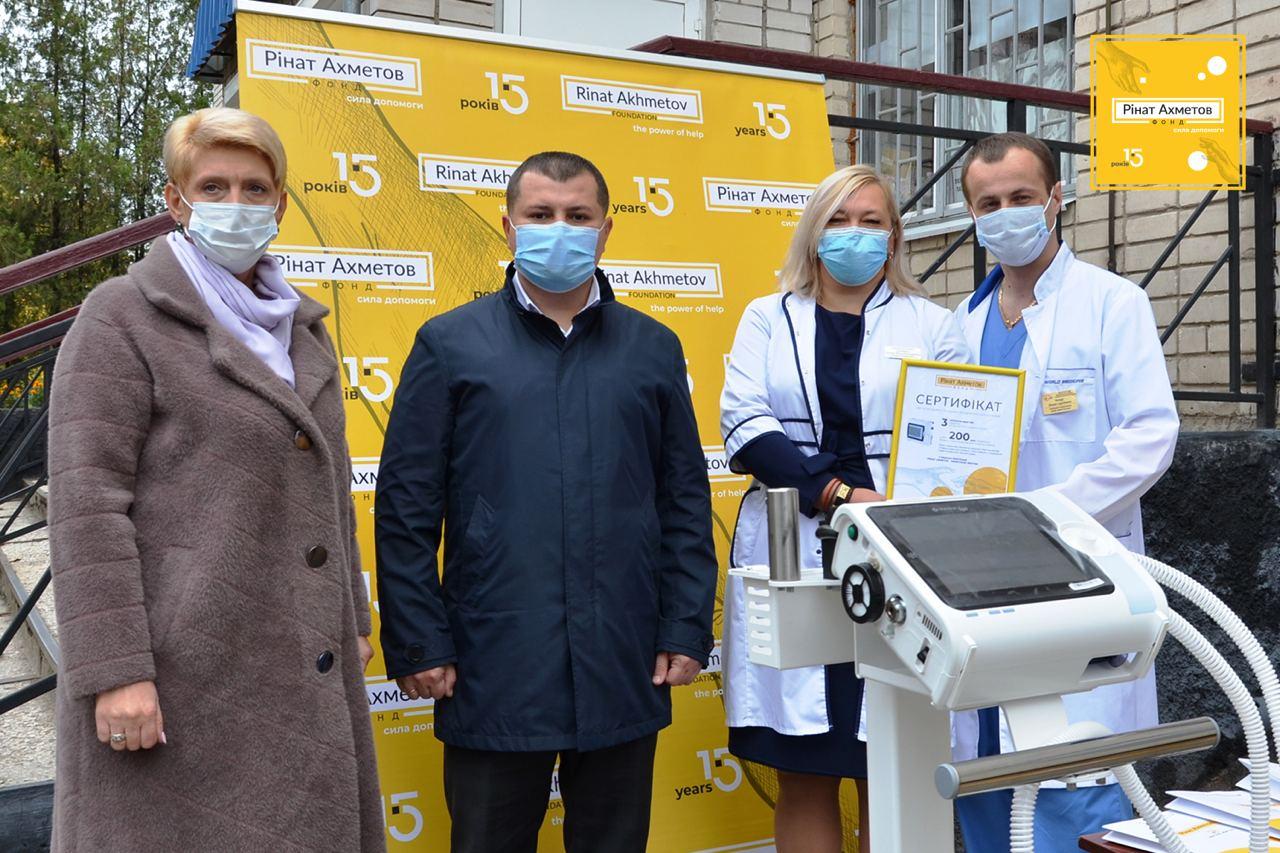 Earlier, 30 ventilators were sent to Dnipropetrovsk Oblast. The region also received 30,000 COVID-19 test systems and a PCR test analyzer from the Foundation, as well as 70,000 respirators, masks and other personal protective equipment.
Fighting COVID-19 in Ukraine is a large-scale project of the Foundation created to help save people's lives. It is implemented under the program Rinat Akhmetov – Saving Lives. Earlier, Rinat Akhmetov launched 200 Ambulances for Ukraine, which was was implemented as part of this program. Back then, all regional state medical institutions received 200 special vehicles with state-of-the-art military equipment that can get over off-road conditions within the record time of six months. Moreover, 22 vehicles equiped with ventilators`for newborns were also delivered. This is the largest contribution made by one philanthropist to the state medicine of Ukraine since our country became independent. These days, many of these ambulances are involved in the fight against the coronavirus epidemic.
Read more about the Rinat Akhmetov Foundation's assistance to the country in the fight against COVID-19 in the review materials:
1. Stop coronavirus in Ukraine: the chronicles of the Rinat Akhmetov Foundation's assistance to the country
2. Combating coronavirus: the assistance by the Rinat Akhmetov Foundation to stop the epidemic in Ukraine. Part 2