The Rinat Akhmetov Foundation's Project Ask the Doctor: Omicron Variant in Doctor's Focus
01.12.2021
Within the framework of its project Ask the Doctor, the Rinat Akhmetov Foundation continues a series of its live broadcasts with the country's leading healthcare experts. Lyudmyla Mukharska, Honoured Doctor of Ukraine, and the chair of the board at the All-Ukrainian NGO Union "Ukrainian Sanitary and Epidemiological Union", shared her opinion about vaccination and other aspects of the coronavirus control.
In particular, she explained why no thorough medical examination (health check) is performed immediately before vaccination.
'In case of mass vaccination, this is considered unpractical. First of all, from a practical standpoint. In fact, the procedure takes certain time and it is simply impossible to examine everyone. Therefore, it is better to consult a family doctor prior to that,' said Lyudmyla Mukharska.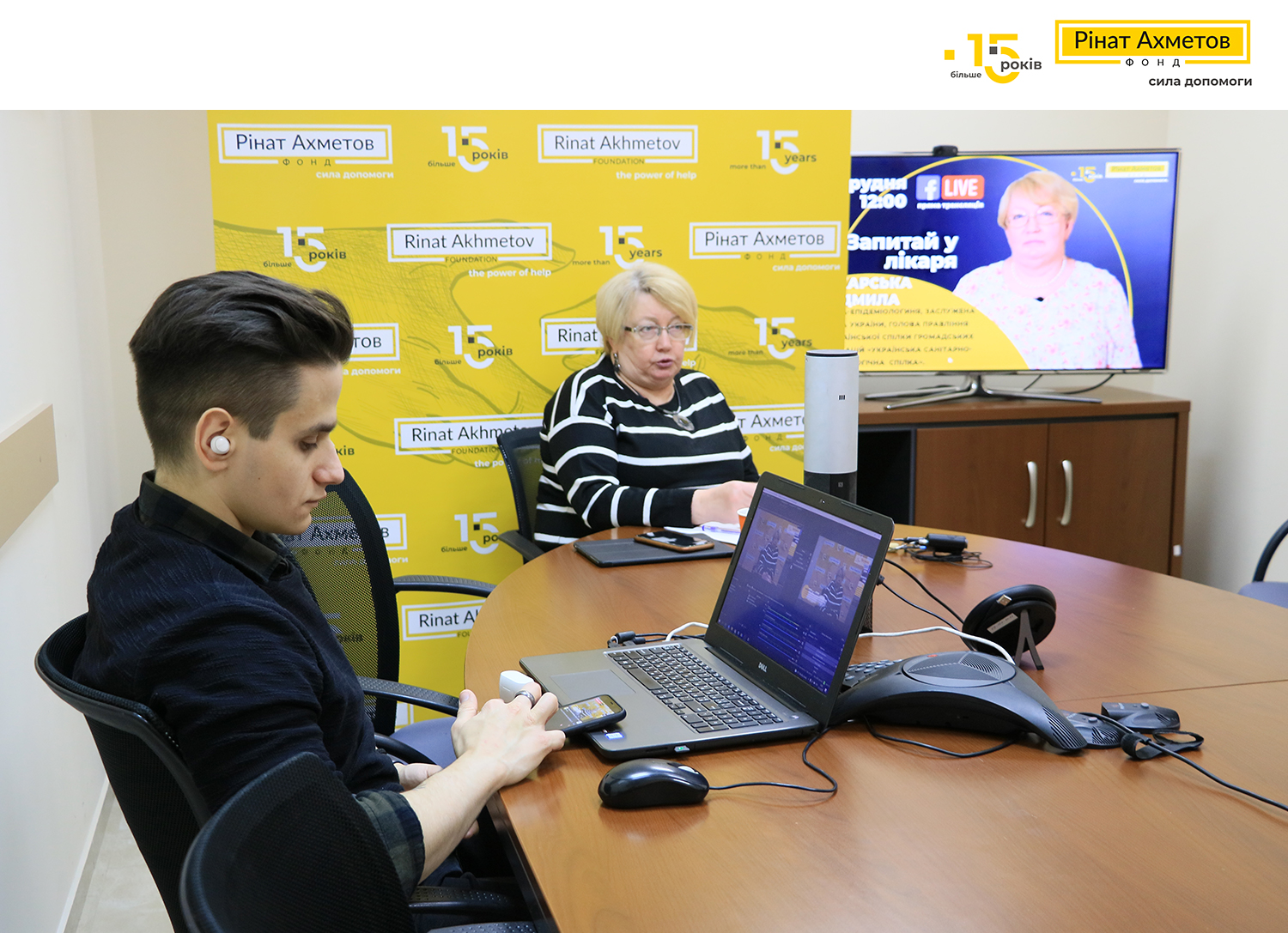 The expert also said that almost everyone is at risk of contracting the coronavirus. However, many people can have the disease in an asymptomatic form.
'A person will not even know that he or she is sick. Most of the people will come across the virus, but not everyone will know about it. And not everyone will have the disease in a severe form. Especially when it comes to those vaccinated.'
Lyudmyla Mukharska also noted that today a new variant of COVID-19, called Omicron, is known.
'The information about it appeared only a week ago. This virus exists and its genome has been deciphered. It gave reasons for some fears as the study found a large number of mutations in it. Many people thought it was bad. However, mutations in viruses far not always cause negative consequences for humans,' said the epidemiologist.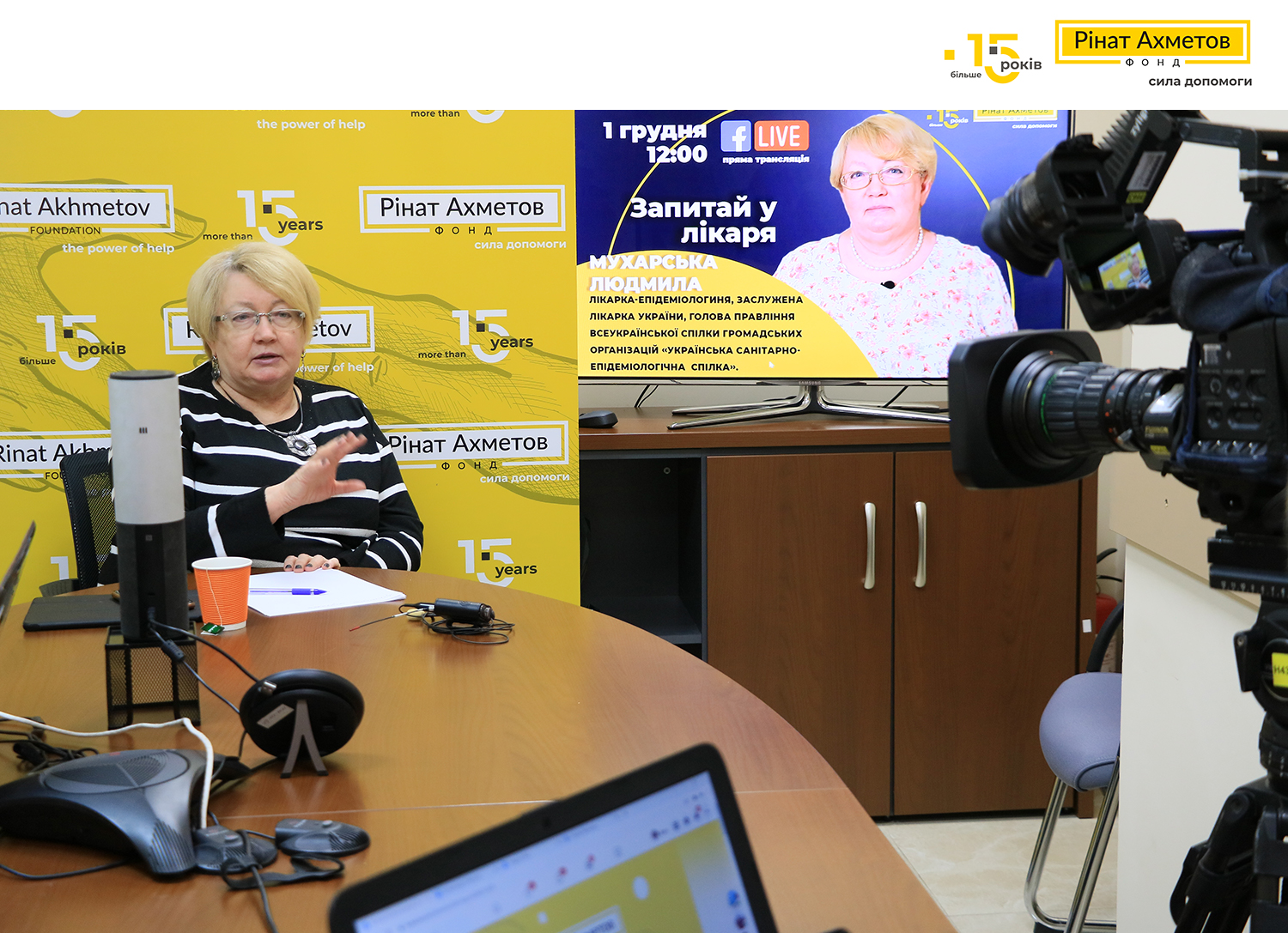 According to her, some more detailed information about Omicron will appear soon. However, there are currently no reports of lethal cases or critical health conditions related to the new coronavirus variant.
'So far, there are not even significant differences in symptoms from other types of the virus. However, it is often reported that Omicron is accompanied by a more expressed fatigue. There is no other information yet,' Lyudmyla Mukharska emphasized.
The expert reminded that the season of respiratory diseases has come. Therefore, you need to take more care of yourself and your loved ones.
'You can get the flu and the coronavirus at the same time. It would be great if people were vaccinated against both the coronavirus and the flu. Such medicines are available and are efficient against the respiratory viruses circulating this season. You can get two vaccinations and be sure of your protection,' said Lyudmyla Mukharska.
Over the total time of the Ask the Doctor broadcasts, the content of the project on the Rinat Akhmetov Foundation's digital platforms has been viewed more than 20 million times. Earlier, the experts of the program's life broadcasts were such famous healthcare specialists as a cardiac surgeon Borys Todurov; a cardiologist, an associate member of the National Academy of Medical Sciences of Ukraine, a member of the European Society of Cardiology Kateryna Amosova; a psychiatrist, a Doctor of Medical Sciences, and a professor Oleh Chaban; the President of the Association of Anaesthesiologists of Ukraine Serhiy Dubrov, and other experts.
Video recordings of the program's broadcasts with experienced healthcare practitioners are available for watching on the Rinat Akhmetov Foundation's page in Facebook, and in YouTube.
In total, about UAH 500 million was allocated for the fight against COVID in Ukraine. Thanks to this, the Foundation helped 1.41 million people survive.
This is the largest contribution of one philanthropist to public healthcare sector of Ukraine since the country's independence. More than 500 healthcare institutions across the country received over 1,000 pieces of equipment, including 216 lung ventilators and 159 oxygen concentrators. More than 200,000 units of personal protective equipment have been donated to public hospitals. Doctors also received 337,000 rapid COVID-19 tests and 1,044 units of medical and laboratory equipment from the Foundation.