Doctors in Kyiv Received Modern Lung Ventilator from the Rinat Akhmetov Foundation
19.01.2021
The Rinat Akhmetov Foundation donated 205 modern lung ventilators to public hospitals. This week Kyiv Municipal Clinical Hospital No. 18 received one of them in the framework of the Foundation's project Fighting COVID-19 in Ukraine.
'When Ukraine faced the threat of the pandemic, Rinat Akhmetov was the first to come to help. For efficient operations, the Foundation established the project Fighting COVID-19 in Ukraine, which became part of the program Rinat Akhmetov – Saving Lives. The project is unprecedented for the country. Within its framework 1,000 units of modern medical equipment were donated to public hospitals and laboratories. The procurement of 200 modern lung ventilators became a key element of this assistance. The Ukrainian healthcare system needed them the most,' said Natalya Yemchenko, a member of the Foundation's Supervisory Board.
In her turn, Liudmyla Pylypchenko, acting head of the hospital, expressed gratitude for such an essential and much needed support: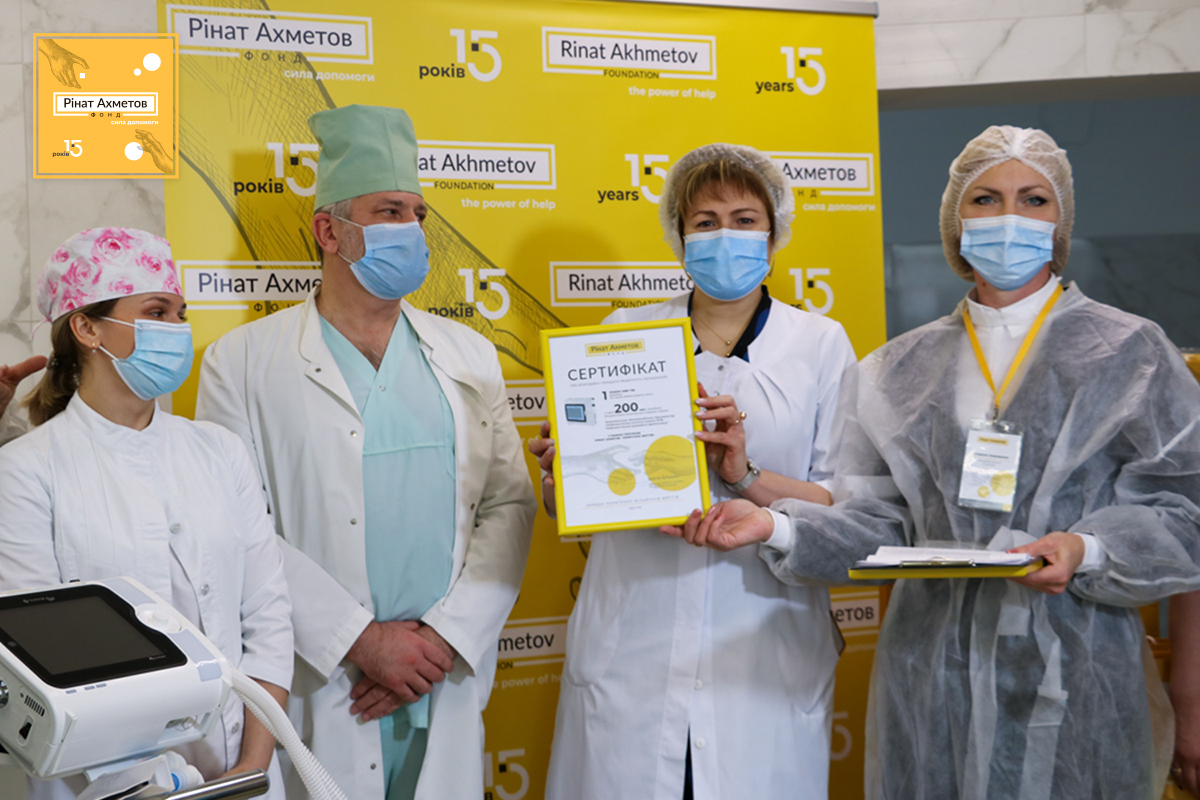 'I want to say many thanks to the Rinat Akhmetov Foundation on behalf of the hospital's team and on behalf of its patients. A lung ventilator of this class will make it possible to provide full-fledged high-quality care to our COVID-19 patients. Many thanks.'
Doctors of hospital No. 18 are not the only ones in Kyiv who received help from Rinat Akhmetov. In December, the Foundation donated high-class lung ventilator to Kyiv hospital No. 17. Now, its intensive care unit is fully occupied due to the coronavirus epidemic. Doctors work without letup and they need support particularly. Indeed, in some cases only professionalism armed with modern equipment can save lives.
'Big thanks to the Rinat Akhmetov Foundation for this gift, a lung ventilator. For any anaesthesiologist it is pleasant and easier to go to work knowing that there is high-quality equipment available in which you are 100 percent confident,' says Galyna Slavuta, a doctor of the anaesthesiology department.
Lung ventilators are only part of the aid that the country receives in the framework of an unprecedented project Fighting COVID-19 in Ukraine. Public hospitals in the regions already received more than 200,000 units of personal protective equipment. In addition, doctors also received 337,000 express tests and 1,044 units of medical and laboratory equipment from the Foundation.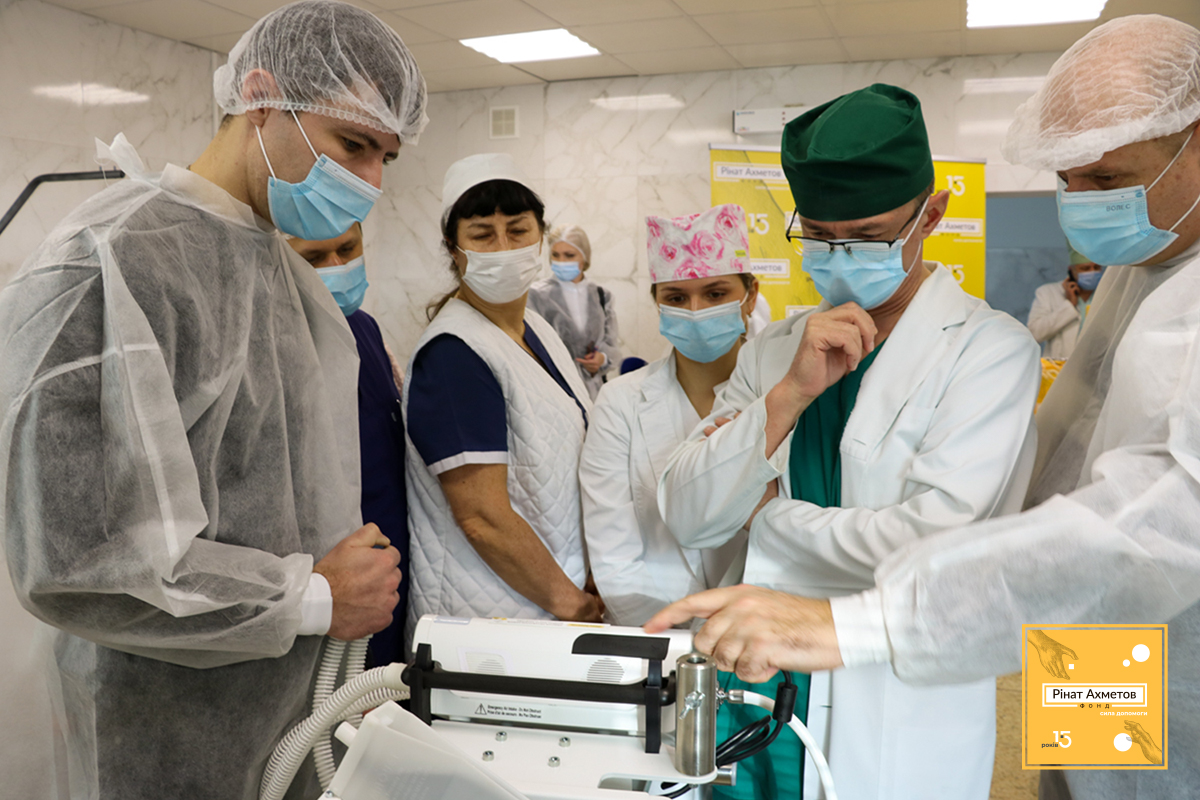 When it became known that Ukraine is in dire need of medical oxygen and its supply systems, the Foundation was the first to come to help. It purchased and handed over to public hospitals 155 oxygen concentrators, 140 of them – in December 2020. This is a vital equipment, namely 10-litre KSOC-5 oxygen concentrators manufactured by Jiangsu Konsung Bio-Medical Science and Technology Co. Ltd. The model can simultaneously supply oxygen to two patients who need oxygen support during COVID-19 treatment. Such safe and energy-efficient oxygen concentrators will also be useful for doctors when the pandemic is over. They can be used in treatment of not only the respiratory system's diseases, but also diseases of the cardiovascular and cerebral vascular systems, as well as during hypoxia.
In addition, doctors of the intensive care units received sets of medical clothes from the Foundation made to a special order. To date, about 1,400 of such medical suits have been provided to doctors of public hospitals.
The Rinat Akhmetov Foundation also held two online conferences for doctors who use lung ventilators in their medical practice. These were three-hour webinars where leading experts from the Ministry of Health shared the world's best practices in the treatment of COVID-19 and some finer points of operating the latest models of ventilators. About 2,000 Ukrainian doctors took part in the online training from the Rinat Akhmetov Foundation.
Fighting COVID-19 in Ukraine is a large-scale project of the Foundation created to help save people's lives. It is implemented under the program Rinat Akhmetov – Saving Lives. Earlier, Rinat Akhmetov launched 200 Ambulances for Ukraine, which was was implemented as part of this program. Back then, all regional state medical institutions received 200 special vehicles with state-of-the-art military equipment that can get over off-road conditions within the record time of six months. Moreover, 22 vehicles equiped with ventilators`for newborns were also delivered. This is the largest contribution made by one philanthropist to the state medicine of Ukraine since our country became independent. These days, many of these ambulances are involved in the fight against the coronavirus epidemic.