Campaign Rinat Akhmetov for Children: New Year's Ball of Miracles for Children in Mariupol
13.12.2021
The campaign Rinat Akhmetov for Children is a personal initiative of Rinat Akhmetov. This tradition is more than 20 years old. Over the years of the campaign's existence, its format has changed, but the goal and philosophy have remained unaltered – to give warmth and care to children. The longest and largest scale New Year's charitable tradition began on 16 November 2001. Back then, Rinat Akhmetov for the first time visited children of boarding schools and orphanages and saw how they were waiting for a miracle to happen.
'Orphaned children. They are in a difficult situation, in trouble. They do not just need help, they need communication. There is a huge pain seen in their eyes, and we want to relieve this pain and give them at least hope for tomorrow. And we did it and we do it honestly, we do it with our soul and heart,' said the founder of the campaign and the Rinat Akhmetov Foundation.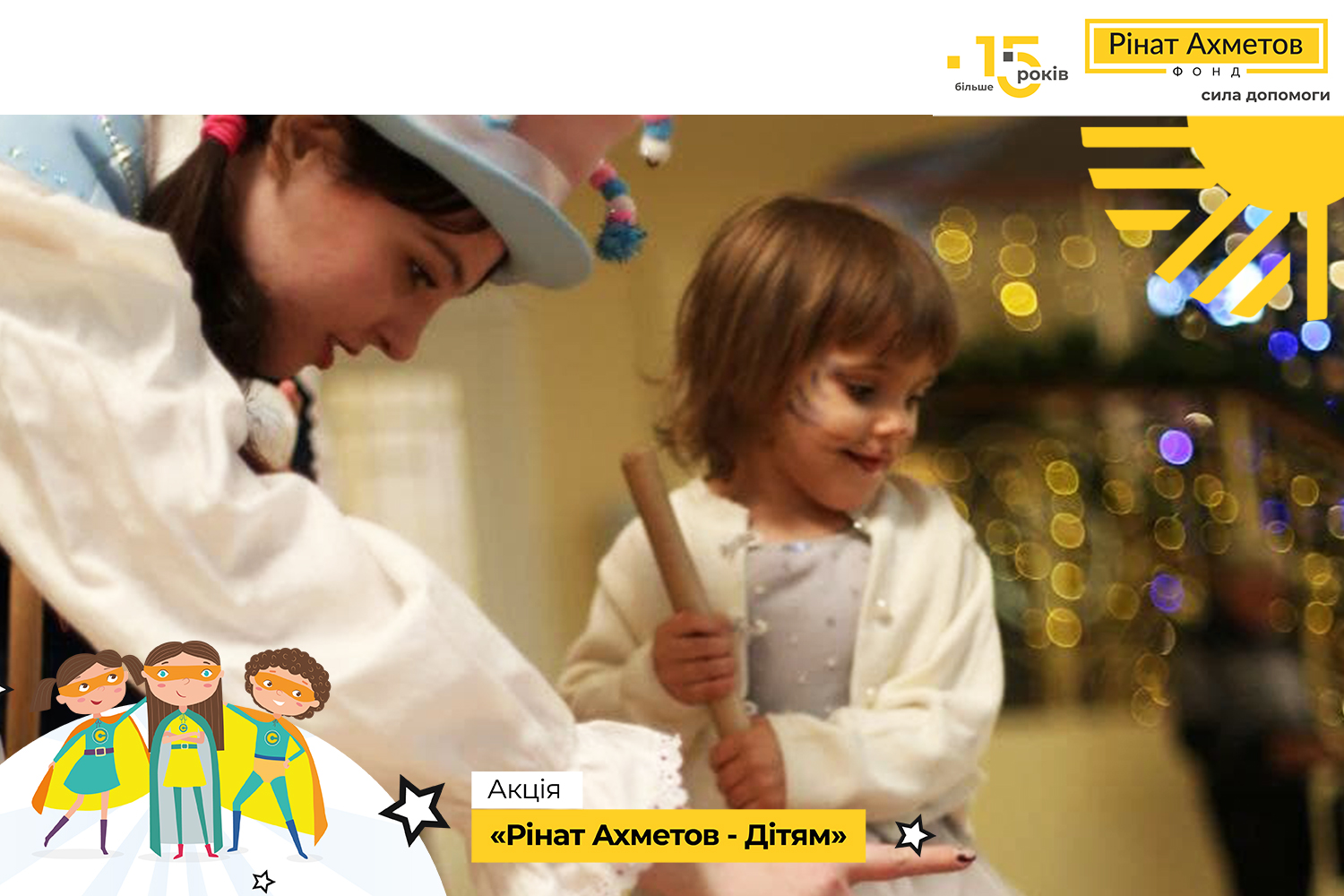 This year, within the framework of the campaign, the Foundation arranged a real New Year's fairy tale for children in Mariupol. The participants were children from family-type orphanages, as well as children taking part in programs and projects of the Rinat Akhmetov Foundation. All the events were organized in accordance with the safety regulations introduced because of the COVID-19 pandemic. 
'In the last 14 years, almost 1 million children received gifts and congratulations from Rinat Akhmetov,' said Oksana Ishchuk, project manager of the Rinat Akhmetov Foundation. 
An extraordinary New Year's Eve Ball with dances, treats and pleasant surprises became the centrepiece of the event. To make the celebration truly filled with a New Year spirit, the children not only decorated the location with Christmas decorations, but also filled it with their smiles and good mood, and the Rinat Akhmetov Foundation's representatives and its ambassador, a well-known TV presenter from Ukraine TV channel Ihor Pupkov, helped them in this. 
Upon completing certain tasks and instructions from the Chief Wizard, the participants of the celebration received special bags with miracles, which symbolized joy, courage, honesty and friendship. Using them, children created a real capsule of miracles, because miracles are what lives inside us, and what we can create ourselves with our own hands. 
Each child could find something to their liking: take a master class on making soap bubbles using special rackets, practice solving various tricks, try on colourful face painting and participate in many other exciting activities. The interactive performance Little Father Christmas (Little Santa Claus) became a pleasant surprise for many children. 
For more than 20 years now, on the eve of the New Year, the Foundation's staff have been giving gifts from Rinat Akhmetov to children of boarding schools, family-type orphanages, as well as children who took part in the Foundation's programs and projects throughout the year.
The campaign gives its participants the belief that they will definitely be able to achieve their goals.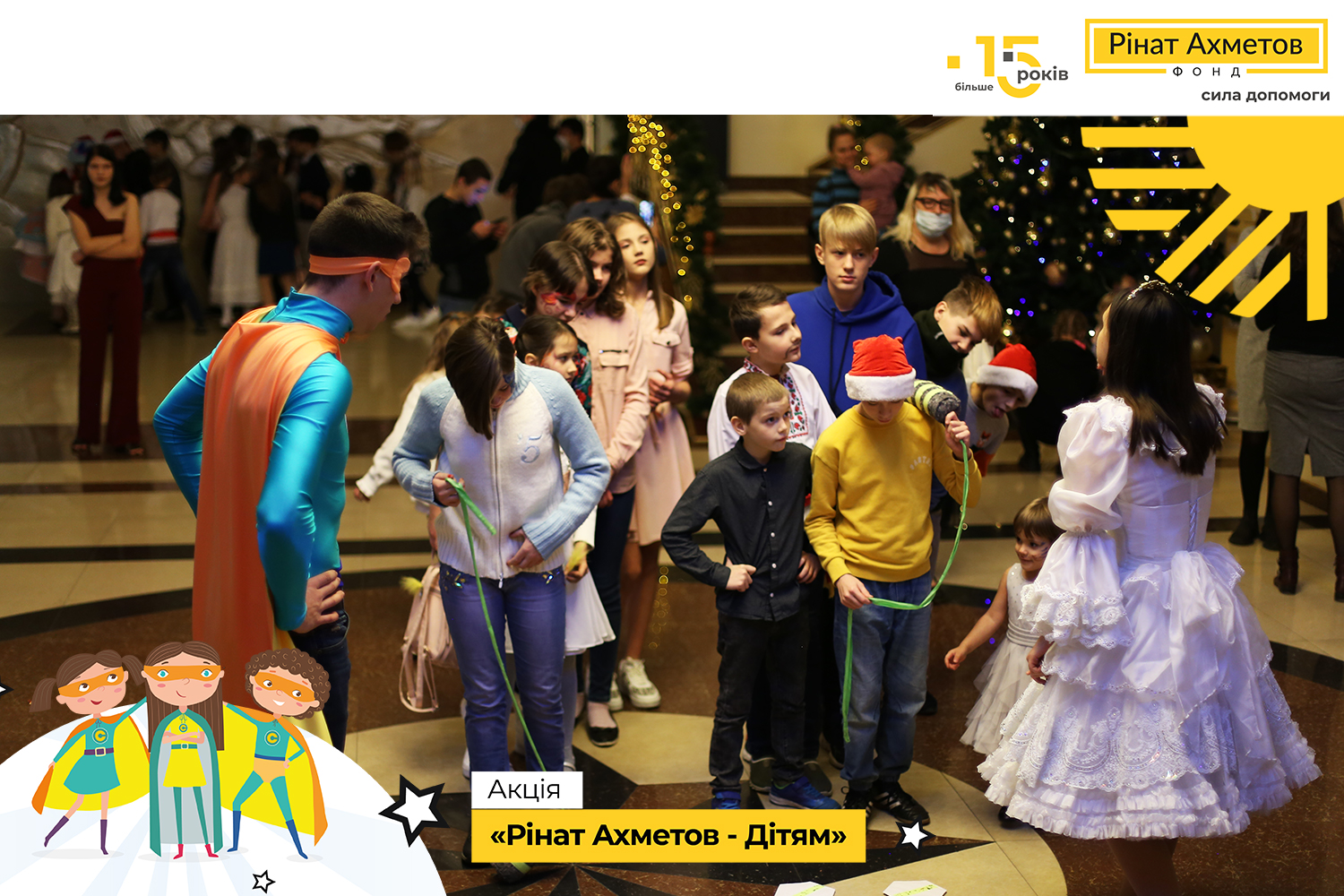 The goal of the campaign Rinat Akhmetov for Children is much more than just New Year's greetings. Its continuation is the project Rinat Akhmetov for Children. Your Superpower. This is a series of motivational meetings for children of boarding schools in Donetsk region with the Foundation's ambassadors – the top-liners of Ukraine TV channel, ambassadors of Rinat Akhmetov's goodwill. These people, who are very popular among youngsters, show by their own example that achieving the set goal is quite a feasible task. Since December 2018, these ambassadors have held 41 meetings in nine boarding schools in Donetsk region, which have been attended by 1,065 children. The importance of such events is that boarding school pupils receive some applied knowledge that will help them in their adult life. This year, the Foundation is preparing a new, insightful, motivational and interactive online career guidance lesson Your Superprofession for schoolchildren from all over Ukraine.
Over 15 years of its operation, the Foundation has helped eight million people survive. Thanks to the program Rinat Akhmetov for Children, 5.2 million children received the Foundation's support.