70 Days of War: the Rinat Akhmetov Foundation provides humanitarian and psychological assistance to the people of Ukraine
04.05.2022
70 days have passed since the beginning of the full-scale Russian invasion of Ukraine. At a time when the country is at war, the Rinat Akhmetov Foundation has focused resources on helping the most vulnerable and temporarily displaced people of Ukraine.
In ten weeks of the war, the Rinat Akhmetov Foundation handed over more than 580,000 units of medicines, more than 60,000 blood containers and more than 145,000 food packages to the people of Ukraine. Humanitarian charity help from the Foundation reached 980 thousand people.
During this time, the Rinat Akhmetov Foundation's hotline received more than 20,000 appeals.
It is also important for the Rinat Akhmetov Foundation to provide psychological support: there are emergency psychological assistance points in Zaporizhia for those who were evacuated from Mariupol and Volnovakha, and a psychological support point for temporarily displaced items has opened in Lviv.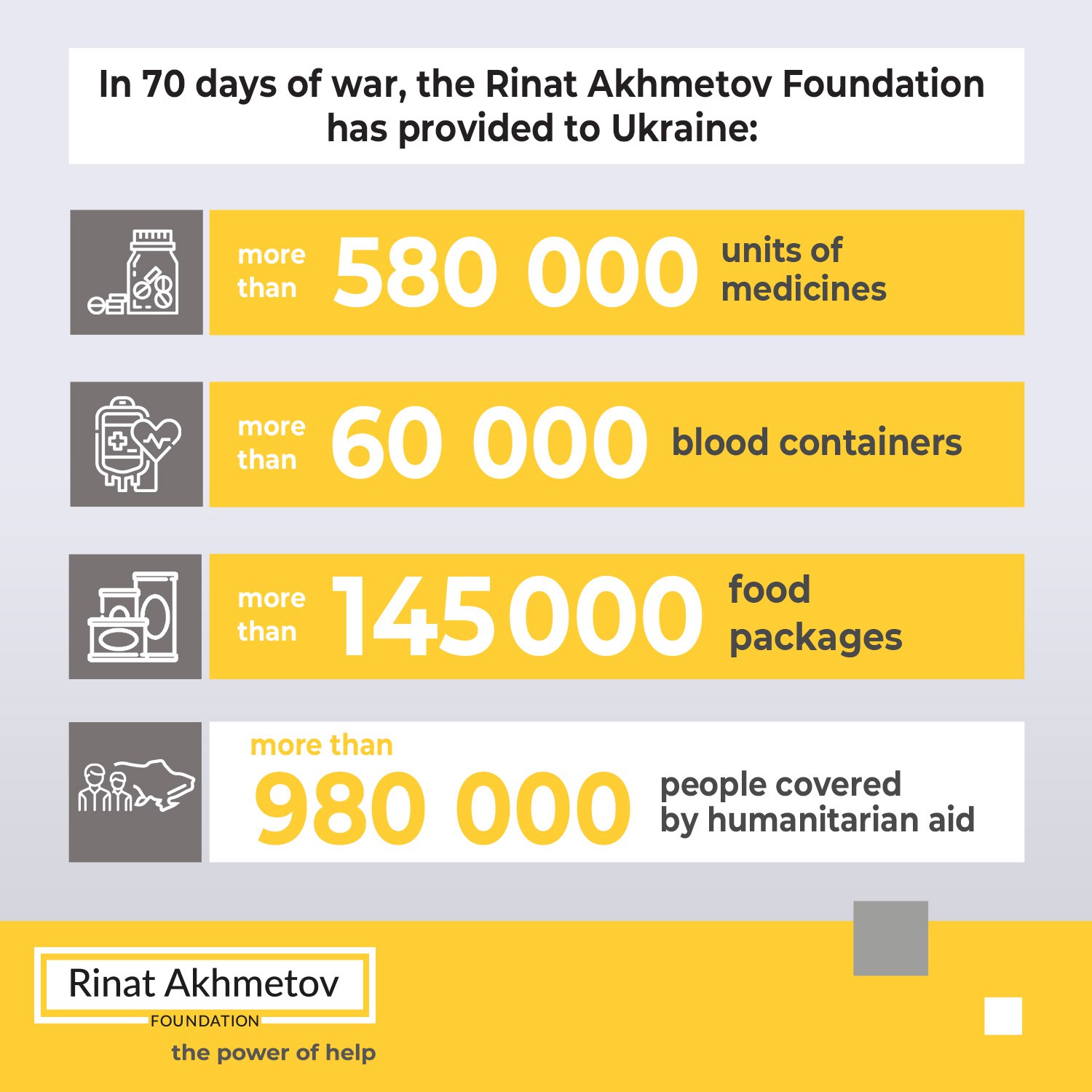 The Museum of Civilian Voices of the Rinat Akhmetov Foundation collects the world's largest archive of stories of civilians affected by Russia's war against Ukraine since 2014. Thousands of people have already entrusted their stories to the Museum.
It should be noted that the charity help is provided under the program "Rinat Akhmetov - Saving Lives". In 16 years of work, the Rinat Akhmetov Foundation has helped 8 million people survive, of which 3.5 million were rescued in Donbass.