"We will not stand aside," the Rinat Akhmetov Foundation continues to provide state-of-the-art ventilators to state hospitals
01.07.2020
In June, the Rinat Akhmetov Foundation and SCM structures delivered 32 high-end ventilators to state medical institutions. All of them have already been installed in hospitals and started saving Ukrainians lives. In total, 200 high-end units of this equipment will be transferred to state healthcare institutions.
"We will not stand aside – we helped, we are helping and we will continue to do so. Jointly with the Ministry of Health, we will do everything possible to prevent the coronavirus epidemic in the cities of our presence and throughout the country. We can make sure that Ukraine will cope with all the challenges that it had to only by joining our efforts in the face of danger," Rinat Akhmetov said.
As of today, the batch of high-quality ventilators which was delivered to medical institutions in June is the largest one brought to the country since the epidemic began.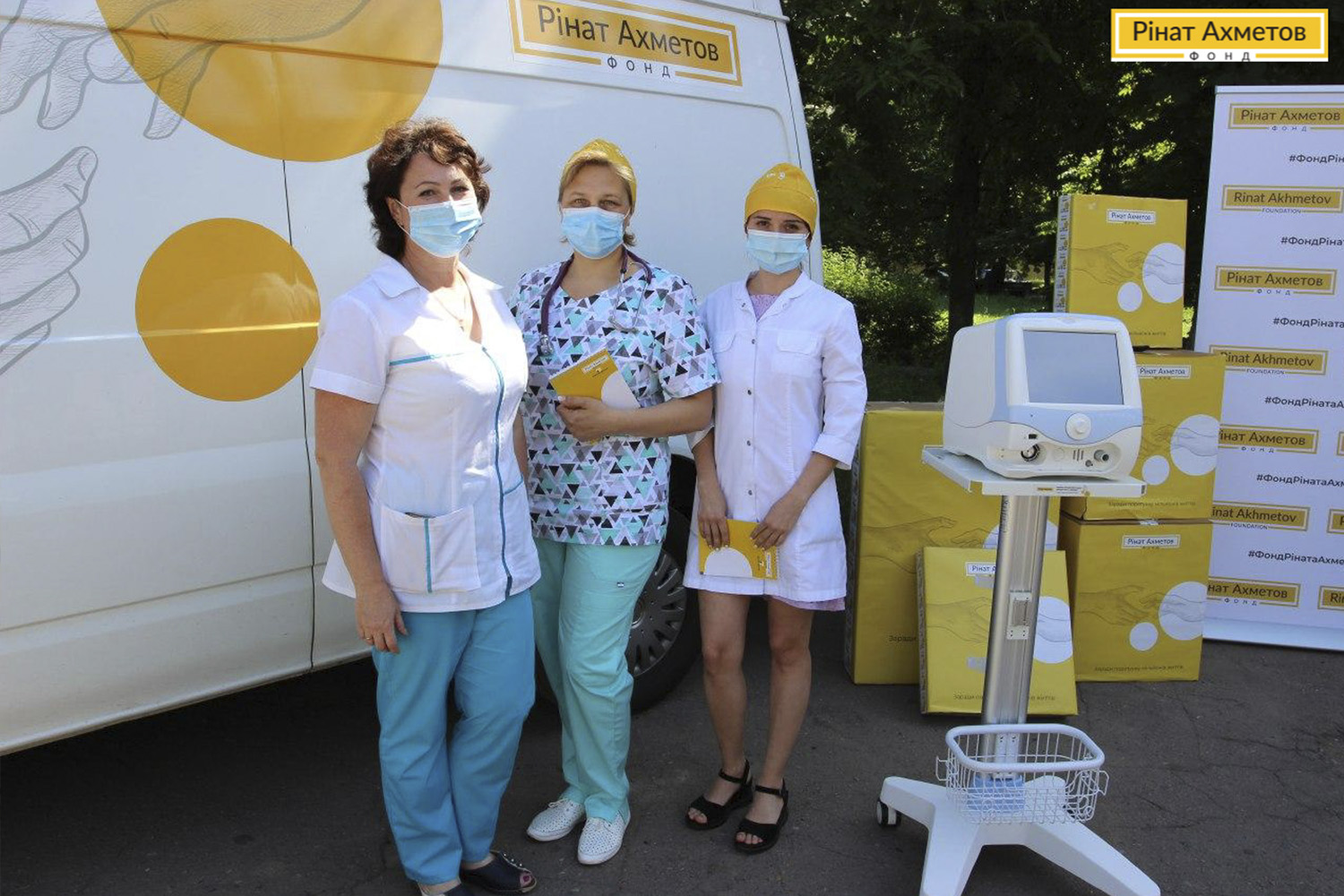 "The Rinat Akhmetov Foundation has been providing unprecedented assistance to Ukrainian medicine for four months. Modern equipment and protective medical equipment have been systematically transferred to state hospitals within the framework of the program Rinat Akhmetov – Saving Lives. One of the most significant projects of the Foundation that is being implemented right now – ventilators for public hospitals — and it is intended to increase the level of emergency care in Ukraine. High-quality medical care will now be available to as many people as possible by virtue of a unique project, initiated by the Rinat Akhmetov Foundation. And since the devices will work for many years, thousands of lives will be saved," Natalya Yemchenko, member of the Supervisory Board of the Foundation, said.
The cutting-edge medical equipment —intended for distant corners of the country
The importance of timely assistance from the Foundation was discussed throughout June in all parts of the country. According to Mayor of Myrnohrad Oleksandr Brykalov, the aid provided by the Rinat Akhmetov Foundation is very timely:
"We have heard the proverb "A friend in need is a friend indeed" since childhood. However, we can really conceive it with advancing age. Today's event confirms this. When trouble came to Ukraine, doctors were not left alone with this problem. Our friends help and give them such scarce and up-to-date equipment that is now so crucial to save Ukrainian people. We deeply appreciate this!
New ventilators from the Rinat Akhmetov Foundation impressed doctors with their technical capabilities.
"In my personal capacity and all medical staff of the hospital, I would like to express my gratitude to the Rinat Akhmetov Foundation for its invaluable assistance and understanding health problems. It is even difficult for me to imagine that this is a ventilator, since it is so modern and top-notch. This is a high-end device. I am most grateful," Eduard Kravchenko, Director of the Rubizhne Central City Hospital, said.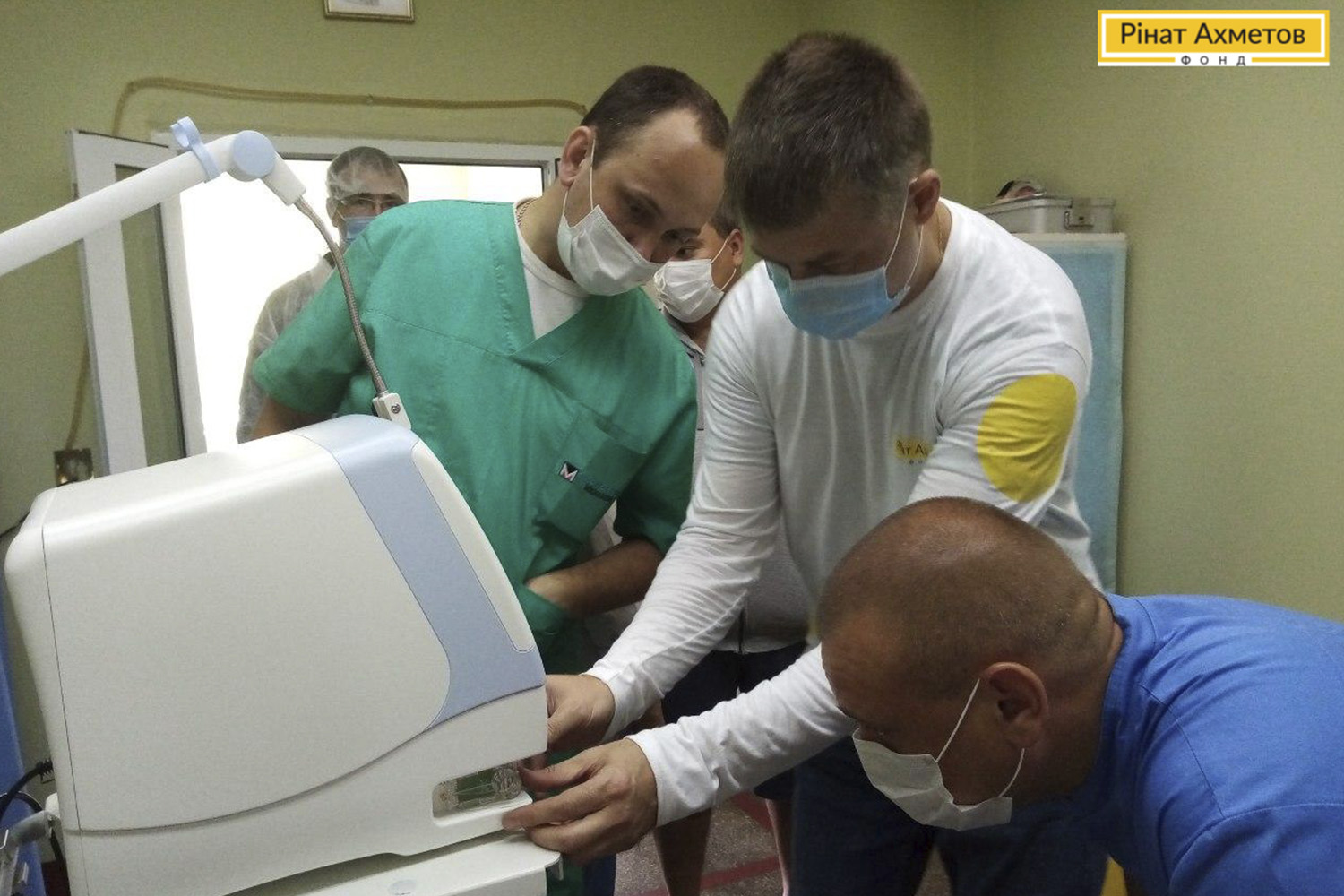 The Foundation is transferring high-end ventilators exactly where they are most required
Many hospitals received ventilators for the first time. However, even those hospitals that had the devices already installed, doctors note drastic shortage of the equipment now. Especially in the Western regions of the country, which are most affected by the coronavirus.
Lviv Regional Phthisiopulmonological Clinical Diagnostic and Treatment Center received six modern medical ventilators from the Rinat Akhmetov Foundation and DTEK. Ivano-Frankivsk Oblast also received six ventilators. According to the Head of the Ivano-Frankivsk Regional State Administration, Vitaliy Fedoriv, doctors of the region felt actual support.
"I appreciate this great and important assistance. The Foundation remained with us when the situation went out of proportion. Thanks to these devices, the patients who are being admitted now will receive the assistance. Hospitals that were the first to make a stand to protect people's lives crave for this high-end equipment," Vitaliy Fedoriv said.
According to the Chief Physician of the Center, Lyubomyr Malofiy, a ventilator is a top-priority for Ukrainian hospitals.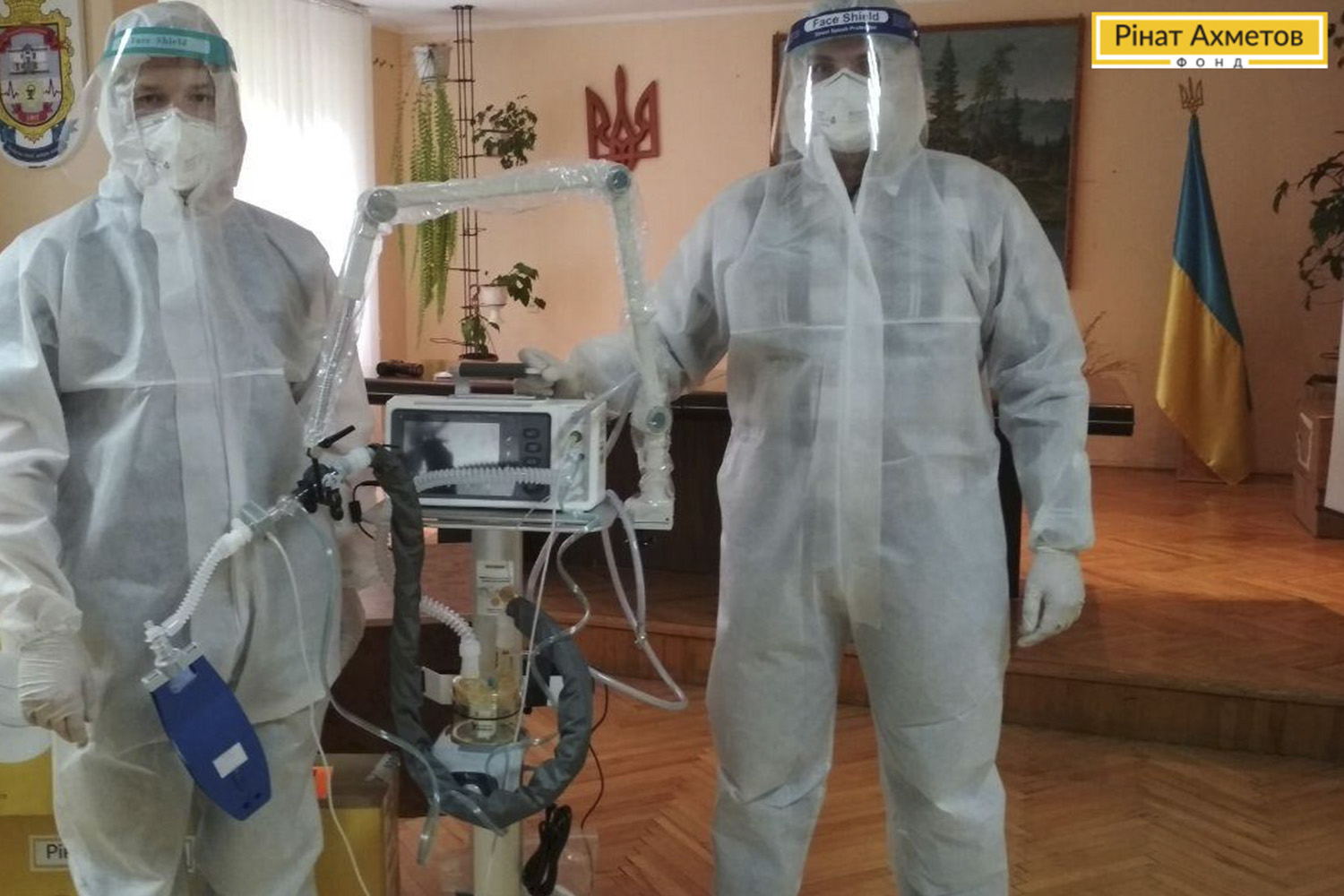 "I want to thank the Rinat Akhmetov Foundation for the equipment that our specialists will work with and attend to. We had patients who needed such devices, but we could not provide them to all because of the shortage. Now our doctors will not have such cases," Lyubomyr Malofiy said.
Two Monnal T75 ventilators, manufactured by Air Liquide Medical Systems SA (France), were delivered by Rinat Akhmetov Foundation jointly with FC Shakhtar to the doctors of Kharkiv Regional Clinical Infectious Diseases Hospital.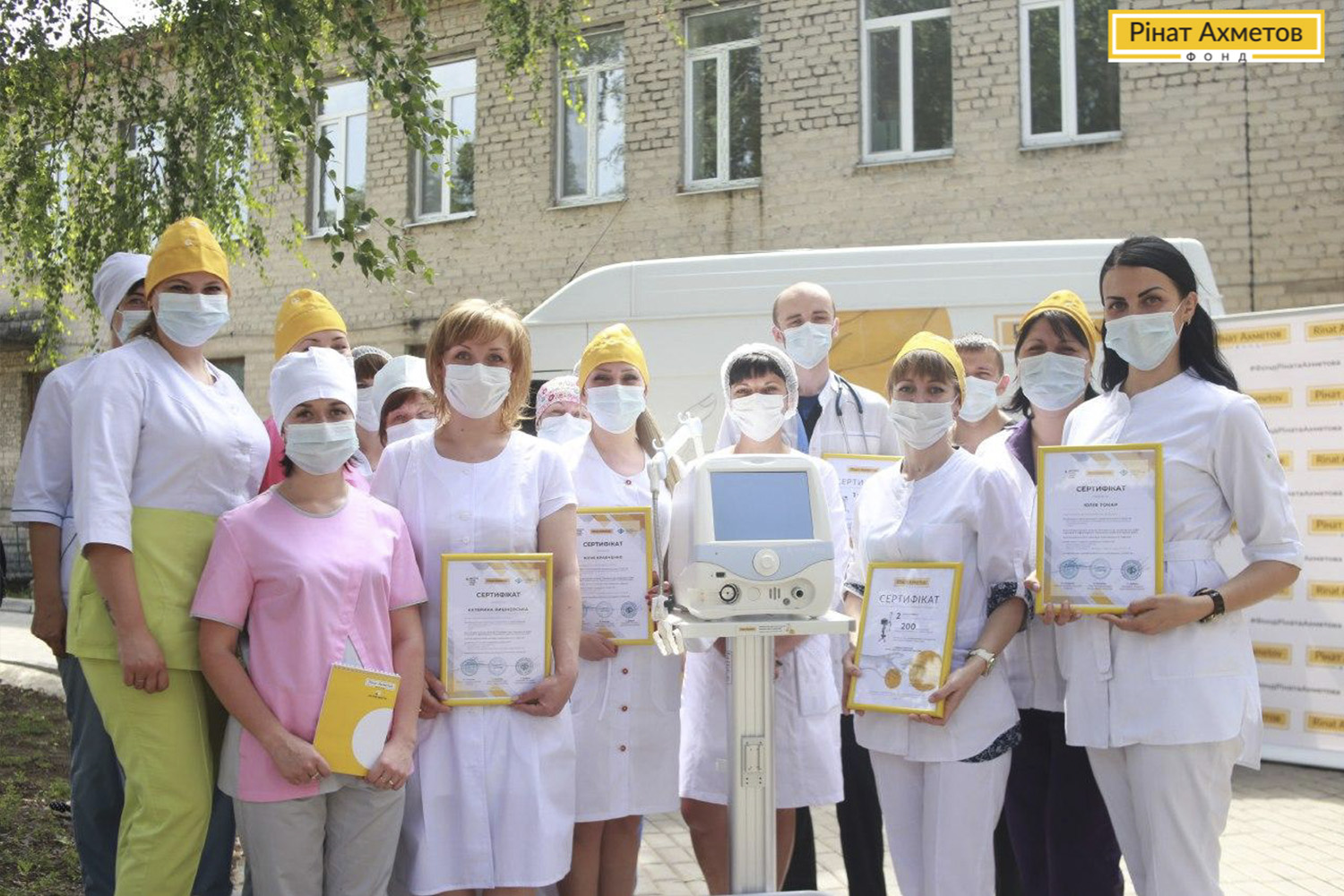 Chairman of Kharkiv Regional State Administration Oleksiy Kucher expressed his gratitude for such timely assistance:
"What businessmen, the Rinat Akhmetov Foundation and football players do is very important for us. We understand that our medicine would have probably collapsed without the support of these activists. Thus, I am deeply grateful for the assistance. It is well-timed since the infectious diseases hospital is full, and there are still quite a lot of people in intensive care unit," Oleksiy Kucher said.
Summary for June
The following cities received 32 modern ventilators from the Rinat Akhmetov Foundation in June:
Donetsk Oblast – Mariupol, Kostiantynivka, Myrnohrad, Kramatorsk, Bakhmut
Luhansk Oblast – Starobilsk, Rubizhne
Ivano-Frankivsk Oblast – Kosiv, Nadvirna, Ivano-Frankivsk
Dnipropetrovsk Oblast - Kryvyi Rih
Lviv
Kharkiv
Kyiv
Moreover, in June, the Rinat Akhmetov Foundation began to transfer certificates to receive sets of medical overalls for doctors working in intensive care units and dealing with COVID cases and who received a ventilator from the Foundation. Doctors will be able to use the QR code to select the necessary custom-ordered clothing sizes. The first ready-made gifts were received on the eve of the Medical Worker Day of Ukraine in Bakhmut Multi-Field Intensive Care Hospital. And the teams of ambulance stations that the Foundation previously gave special vehicles to as part of project 200 Ambulances for Ukraine received coffee machines as a gift.
On 1 July, the Rinat Akhmetov Foundation delivered another large batch of aid to Ukraine — 70 modern ventilators. They will be distributed to state medical institutions in the regions.