Museum of Civilian Voices of the Rinat Akhmetov Foundation: Petro Lavrenyuk Lost His Family Members Under Shellfire
15.03.2021
The Museum of Civilian Voices of the Rinat Akhmetov Foundation has in keeping a story told by Petro Lavrenyuk from Hranitne village near Volnovakha. His granddaughter died from the wounds received during a shelling, and his son went missing.
Petro Lavrenyuk recalls January 2015. Then he left his village for a short time to go to Volnovakha in order to have his new-born grandson registered there. When he returned home, he learned that his elder granddaughter Daria was wounded. The girl was 2.5 years old.
'That was the time when a bus was caught by shellfire in Volnovakha. The ground was shaking all around when I was getting into a car. The road was bad. When we reached Andriivka, I received a call from the neighbour, who is our godmother. Daria stayed with her. We just drove into the street and a thunder rattled. We drove up and saw the neighbour coming to meet us and carrying our granddaughter in blood.'
An ambulance took the girl, but she died from her wounds on the way to the hospital.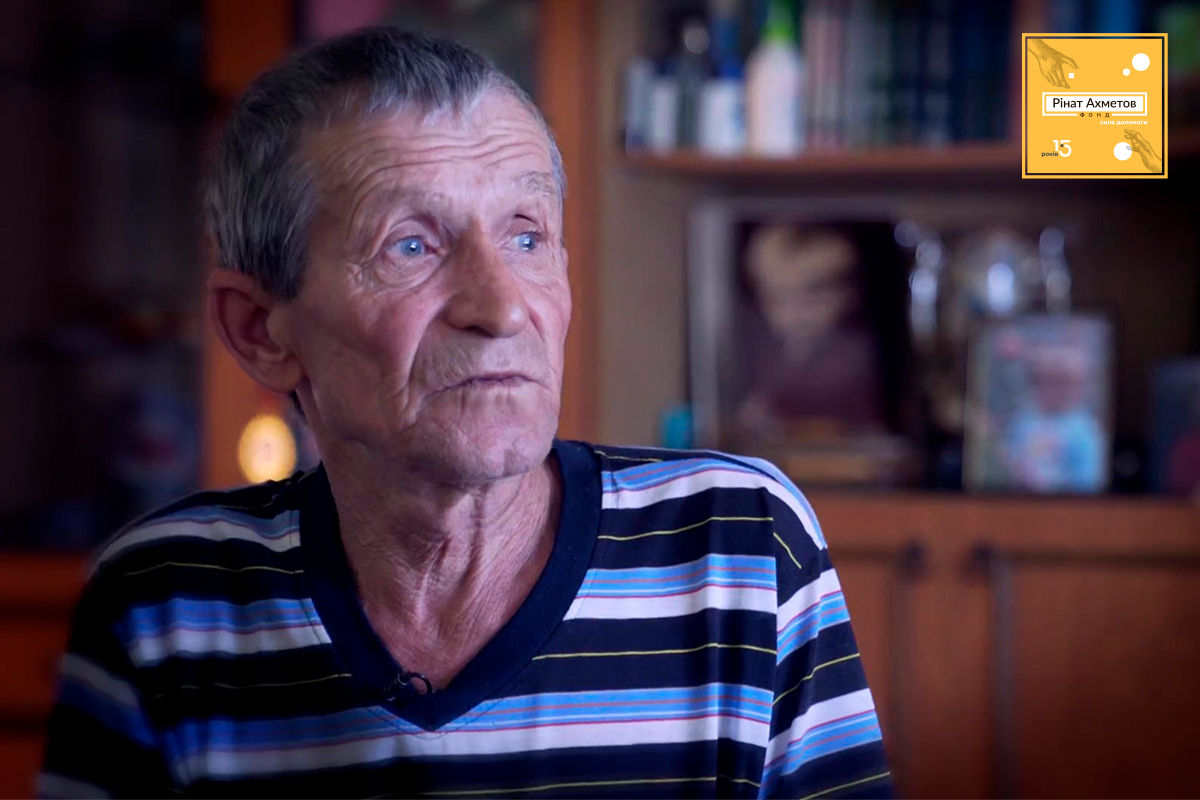 'The ambulance took our neighbour Valya and our granddaughter, but Daria did not make it to the hospital, she died. She was hit in her eye and into the lungs. Her body was committed to the ground. She was a fairy tale, she was a chatterbox girl...' says Petro Lavrenyuk.
Petro's son was shepherding the sheep in neighbouring Novoselovka and went missing. People reported that the sheep flock scattered away, and the shepherd was gone. The father no longer believes that he will see his son alive. He only hopes to find the remains and bury him. After those difficult events, the Foundation does not leave Petro Lavrenyuk alone with his troubles.
'Thank you very much for the help from the Rinat Akhmetov Foundation, which I receive as a disabled person.'
The Museum of Civilian Voices is a project with a global outreach. Its aim is to tell people from different countries about the events in Donbass, as well as about what Donbass civilians went through during the armed conflict. As it is not possible for the museum to be opened in Donetsk, it was created online.
By 2025, the Museum of Civilian Voices of the Rinat Akhmetov Foundation plans to collect 100,000 testimonies from people affected by the armed conflict in Donbass.
'In 2014, the Humanitarian Center was created, which provided assistance unprecedented in its scale and, in fact, saved millions of lives. There is a separate story behind every saved life. We want to create the world's main archive of Civilian Stories,' says Natalya Yemchenko, a member of the Supervisory Board of the Rinat Akhmetov Foundation.
Your story matters too! Tell it to the world. Please, follow the link https://civilvoicesmuseum.org/en/my-story and fill out a short questionnaire to make your input in the preservation of memories.