Kryvyi Rih doctors received two more modern lung ventilators from Rinat Akhmetov Foundation
14.08.2020
On August 13, the Rinat Akhmetov Foundation together with Metinvest handed over two modern artificial lung ventilation devices manufactured in France to the doctors of the Kryvyi Rih infectious diseases hospital No. 1. The award ceremony was held within the framework of the project "Fighting COVID-19 in Ukraine", which became part of the large program "Rinat Akhmetov – Saving lives".
- Rinat Akhmetov provided UAH 300 million to help state hospitals. These funds were used to purchase rapid tests for determining the coronavirus, personal protective equipment for doctors, and PCR analyzers. But the main medical need is artificial ventilation devices that help save the lives of patients with severe complications from infection. Rinat Akhmetov Foundation purchased 204 lung ventilators, the first of which doctors received in March. In total, the Foundation has already transferred 106 lung ventilators to public hospitals. Dnepropetrovsk region received 21 units of this high-class equipment, - Natalya Yemchenko, a member of the Supervisory Board of Rinat Akhmetov Foundation said.
A representative of Metinvest in Dnipropetrovsk region, a member of the regional headquarters for countering coronavirus Dmytro Murashko recalled that Rinat Akhmetov was the first to help the country:
– He combined the resources of all his businesses. Rinat Akhmetov Foundation has developed a large program to fight the coronavirus – and now we are observing its benefits. We have met many times here in Kryvyi Rih, and today we have another important event – two more expert-level apparatuses have arrived in the city.
Dmytro Shevchyk, CEO of Metinvest, said that the equipment being transferred was extremely difficult to purchase due to high competition on the world market, but the Foundation managed to cope with this difficult task.
- Today, Metinvest and Rinat Akhmetov Foundation are handing over two high-level devices to our doctors. Previously, seven similar devices were transferred to Kryvyi Rih and distributed among hospitals. This is a high-precision modern equipment that does not require complex configuration, it is almost immediately ready to work. We will continue to work together with doctors and the city – we can only cope with new challenges in productive cooperation. Its result is the health of people, which is the most important thing for us – - Dmytro Shevchyk said.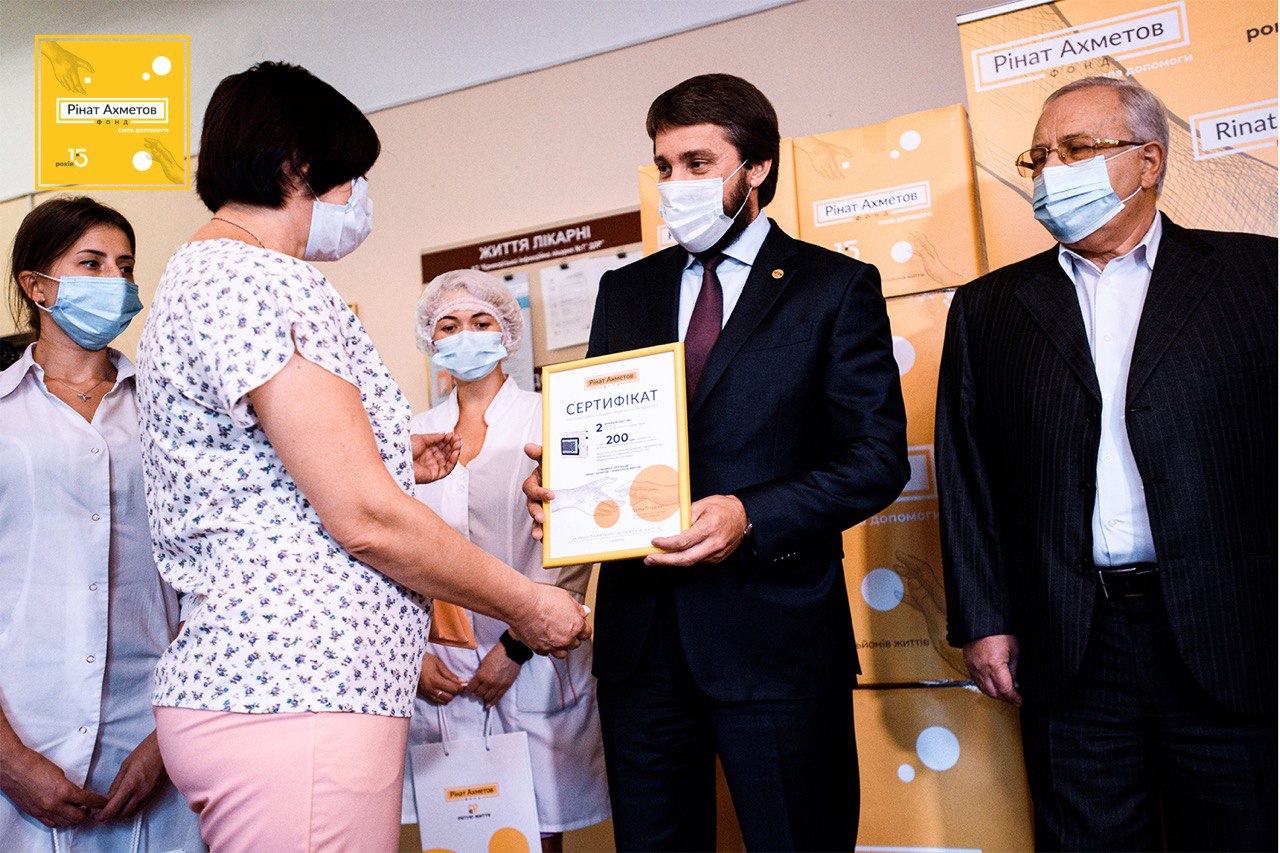 Mayor of Krivoy Rog Yurii Vilkul thanked Rinat Akhmetov Foundation and said that equipment of this class is extremely necessary for the city.
– Our city has developed a program to counteract infection, but there is always possibility for good deeds. We are glad that two more devices came to the city from Rinat Akhmetov Foundation. This is not the first delivery. We have equipped three hospitals with such devices. We have already seven devices that are so necessary for the residents of our city to work in operating rooms and intensive care units. Unfortunately, we have not yet overcome the pandemic. Therefore, this class of devices is very necessary, especially for infectious diseases hospitals, which are at the forefront of the fight against coronavirus. Thank you very much! - Yurii Vilkul said.
Head of the Health Department of the City Executive Committee Kostiantyn Murashko noted that the availability of high-quality equipment gives doctors confidence in saving lives.
– A few months ago, the city allocated funds from the reserve fund, with which we were able to purchase rapid tests, ventilators, oxygen concentrators – all that was necessary at that time. Rinat Akhmetov Foundation has also committed to help, and receiving this equipment is a clear confirmation that these obligations are being fulfilled, - Kostiantyn Murashko said.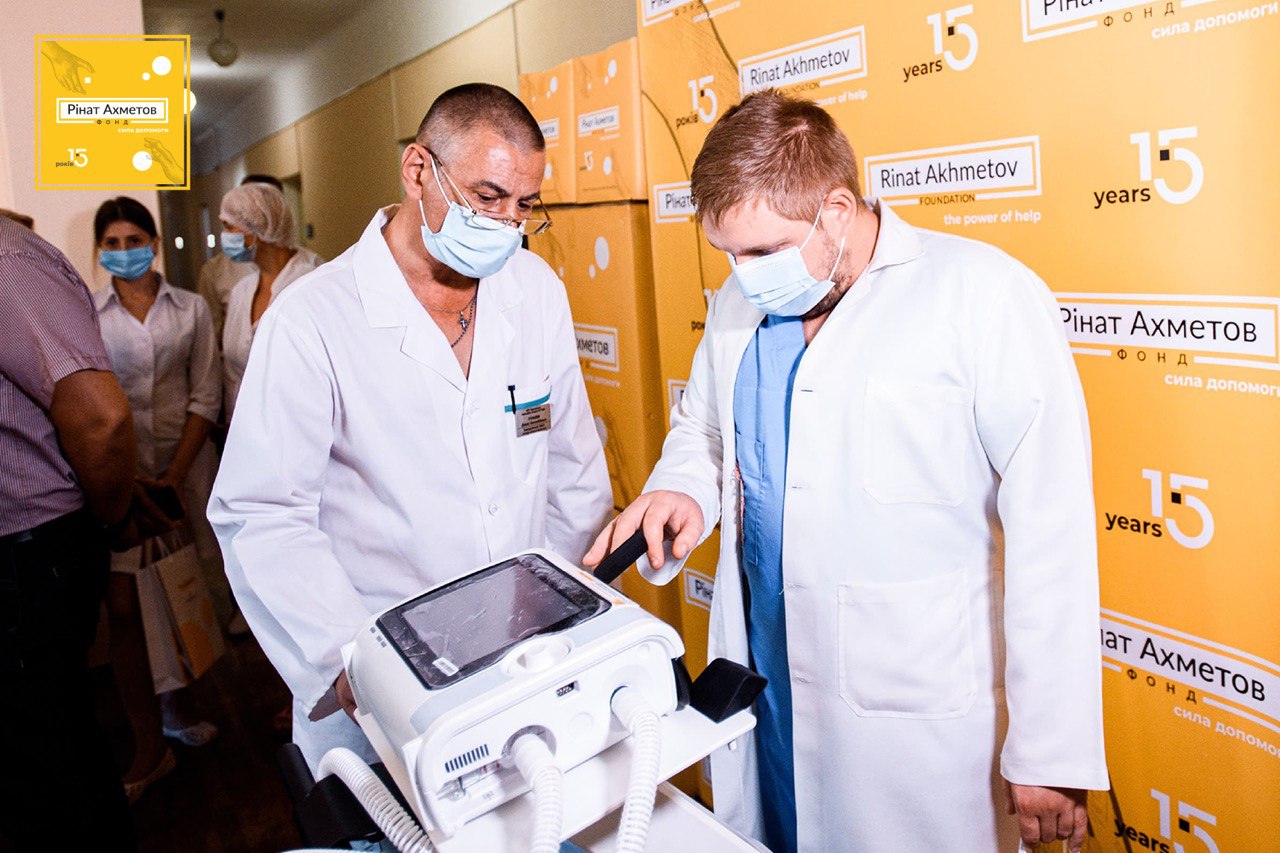 After the transfer of ventilators, the Foundation also handed over to the doctors working in the intensive care unit the sets of medical clothing made by Rinat Akhmetov Foundation on a special order, individually for each of them. Certificates were also awarded to participants of the online training organized by the Foundation together with the Ministry of Health and the Association of anesthesiologists of Ukraine.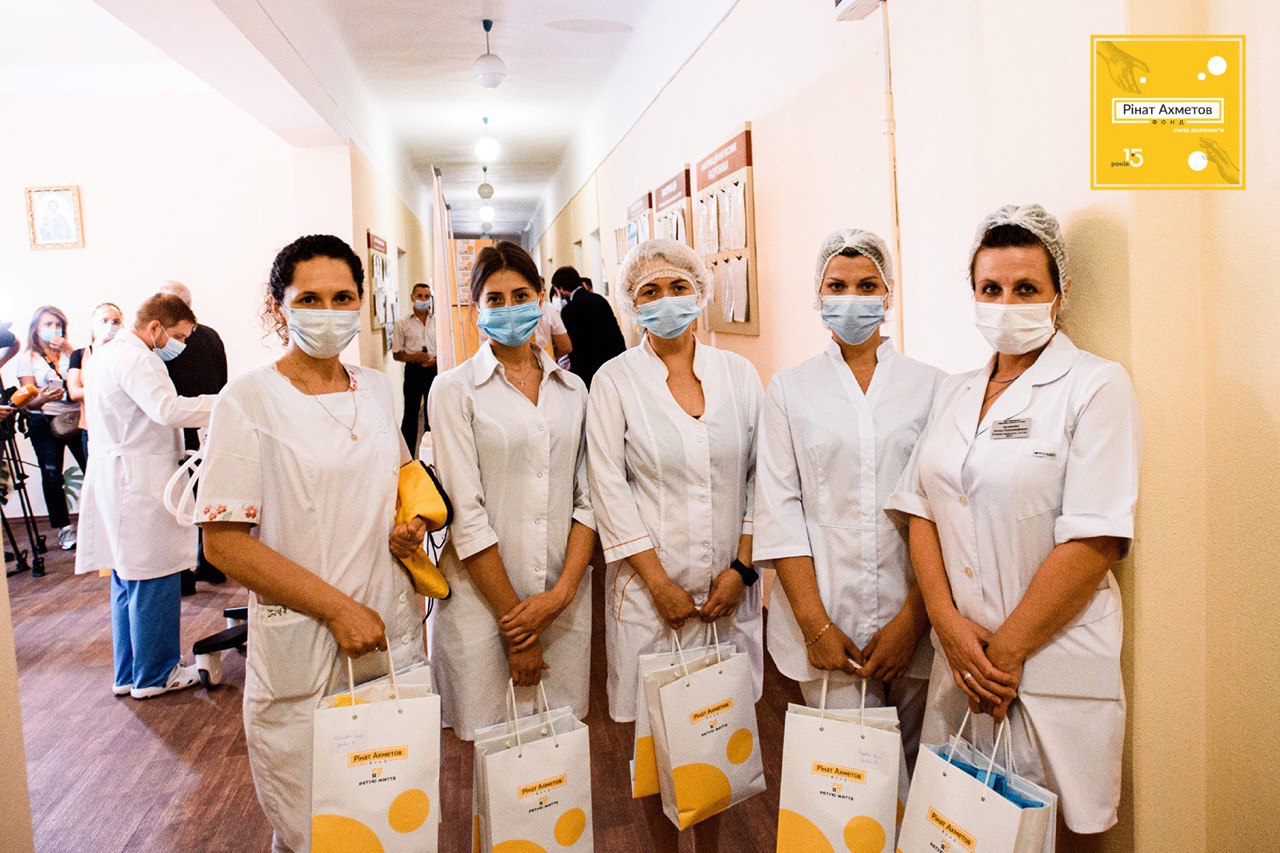 Since the beginning of the coronavirus epidemic, modern ventilators from the Rinat Akhmetov Foundation have been provided to public hospitals in Lviv, Ivano-Frankivsk, Luhansk, Donetsk, Dnipropetrovsk, Poltava, Ternopil, Rivne, Zakarpatia and Kharkiv regions, as well as in Kyiv.
"Fighting COVID-19 in Ukraine" is a large-scale project of the Foundation designed to help the country save lives. It is implemented under the program of "Rinat Akhmetov – Saving lives" Foundation. Earlier, by the personal decision of Rinat Akhmetov, the project "200 ambulances for Ukraine" was implemented as part of this program. Then, in a record-breaking six months, state medical institutions in all regions received 200 special vehicles with the most modern equipment that can overcome off-road conditions. Including 22 vehicles with artificial ventilation devices for newborns. This is the largest contribution of one philanthropist to the state medicine of Ukraine since the independence of our country. Today, many of these ambulances are involved in the fight against the epidemic in all areas.
Read more about how Rinat Akhmetov Foundation helps Ukraine fight coronavirus in our special materials here and here.