15.09.2021
Today, on 15 September, in the framework of a lesson announcing the creative essay competition Civilian Voices. One Day, Ihor Pupkov, the Foundation's ambassador and a well-known presenter of Ukraine TV channel, together with the Rinat Akhmetov Foundation, visited the pupils of Oleksiyevo-Druzhkivska boarding school of I-III grades No. 13.
For the fourth time now, the Rinat Akhmetov Foundation is holding the Week of Civilians in Ukraine in order to draw public attention to civilians of Donbass whose fates the armed conflict forever divided into "before" and "after".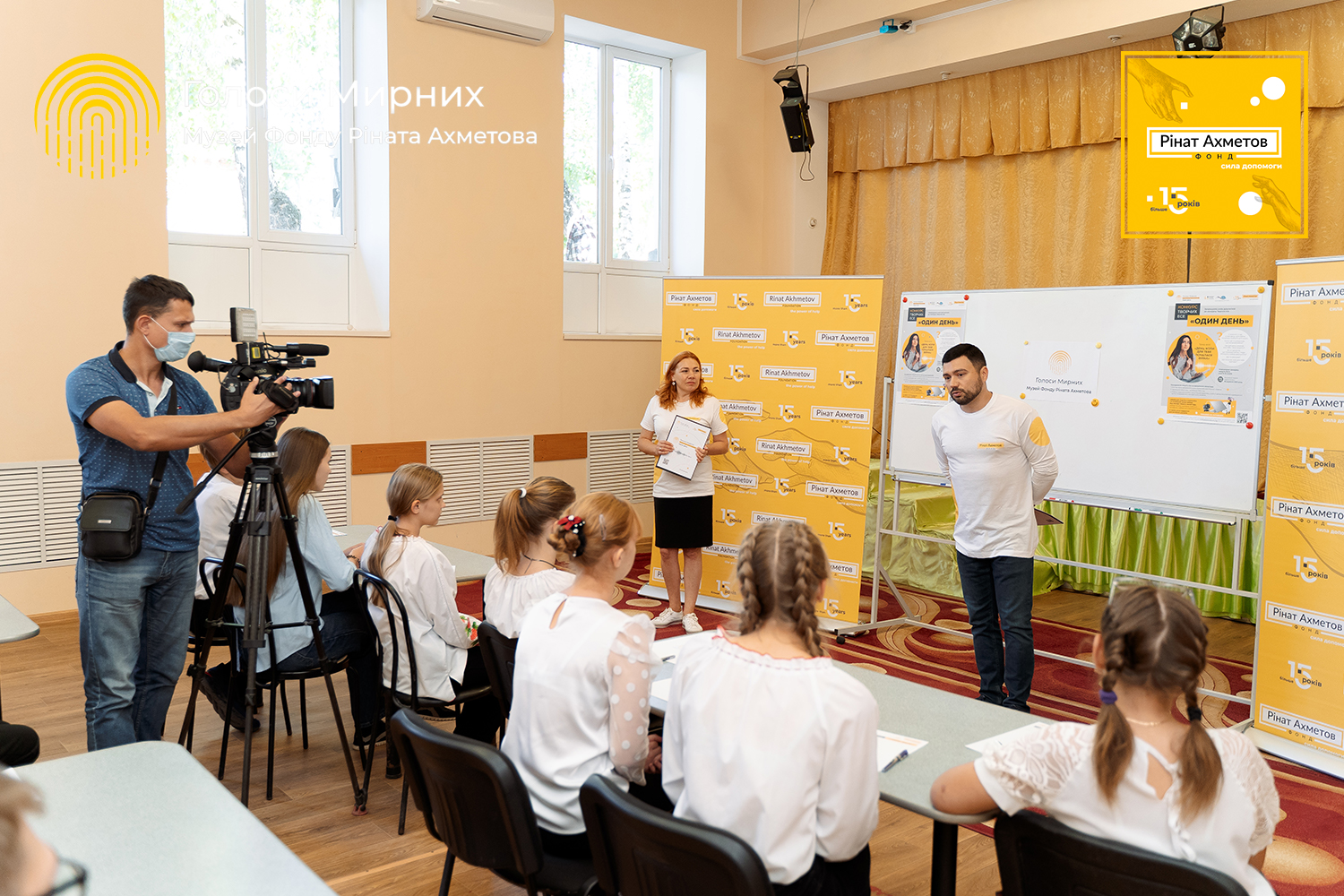 'The creative essay competition aims to emphasize the importance and significance of peace as the main value of our society and is timed to the International Day of Peace, which is celebrated annually on 21 September. In 2021, for the first time, the creative essay competition will be held among students of schools in Donetsk, Luhansk, Zaporizhzhya and Kharkiv regions,' explains Ihor Pupkov, the ambassador of the Rinat Akhmetov Foundation.
The project One Day is one of the initiatives of the Museum of Civilian Voices of the Rinat Akhmetov Foundation, which aims to preserve accounts of eyewitnesses about the day when the war began for them. All this is done in order to rethink the importance of peace and for the sake of peaceful future of the country. 
'The best works will be posted on the portal of the Museum of Civilian Voices, and the winners of the competition will receive lovely gifts from the Foundation: laptops, mobile phones and sets for video bloggers. Valuable prizes will also be provided to teachers who will inspire their students to write their essays,' says Oksana Ishchuk, project manager of the Rinat Akhmetov Foundation.
The creative competition is held within the framework of the Memorandum of Cooperation between the Rinat Akhmetov Foundation and the Institute for Modernization of the Content of Education in the Ministry of Education and Science of Ukraine. Students of 9-12 forms of general secondary schools living in Donetsk, Luhansk, Zaporizhzhya and Kharkiv regions can take part in the competition. The essay shall contain no more than 600 words in Ukrainian or Russian. Participants can get acquainted with the conditions and details of the competition by following the link: https://civilvoicesmuseum.org/news/fond-rinata-ahmetova-zaproshuye-uchniv-do-konkursu-ese-odin-den
The Museum of Civilian Voices of the Rinat Akhmetov Foundation is a space where Donbass civilians can share their stories without fear or reproach. To share them in order to free themselves from the burden of silence and enable people all over the world to understand with the minds and feel with the hearts all the pain of civilians affected by the hostilities. The Foundation seeks to collect a million accounts, i.e., testimonies of eyewitnesses. The goal for the coming years is 100,000 stories of Civilians, 2,000 of which have already been collected.