The Rinat Akhmetov Foundation turns 15: supporting teenagers in boarding schools
16.07.2020
The possibility for orphaned children over 13 to be adopted is relatively low. Teenagers deprived of parental warmth often remain in residential institutions before reaching adulthood. And then they find themselves one to one with the world, unprepared for adult life. They are often convinced that no one needs them. They don't believe in themselves. To help these children cope with the stress of their upcoming graduation from boarding school and motivate them to develop their potential, the Foundation created the project Rinat Akhmetov to Children. Your Superpower. It is a series of motivational meetings of famous and successful people with foster children from boarding schools. The goal of the project is to help children discover their talents that will allow them to be successful and happy. TRK Ukraina TV stars, as well as well distinguished writers and artists, who are the Ambassadors of the Foundation, through their example show to children deprived of parental warmth and children with special needs that it is possible to achieve any goal.
The project was launched in December 2018, and the children learned to dream, believe in themselves, and set goals through the entire first season. The project has been widely recognised, and children from full families have joined it, considering various health features of the students studying in special schools.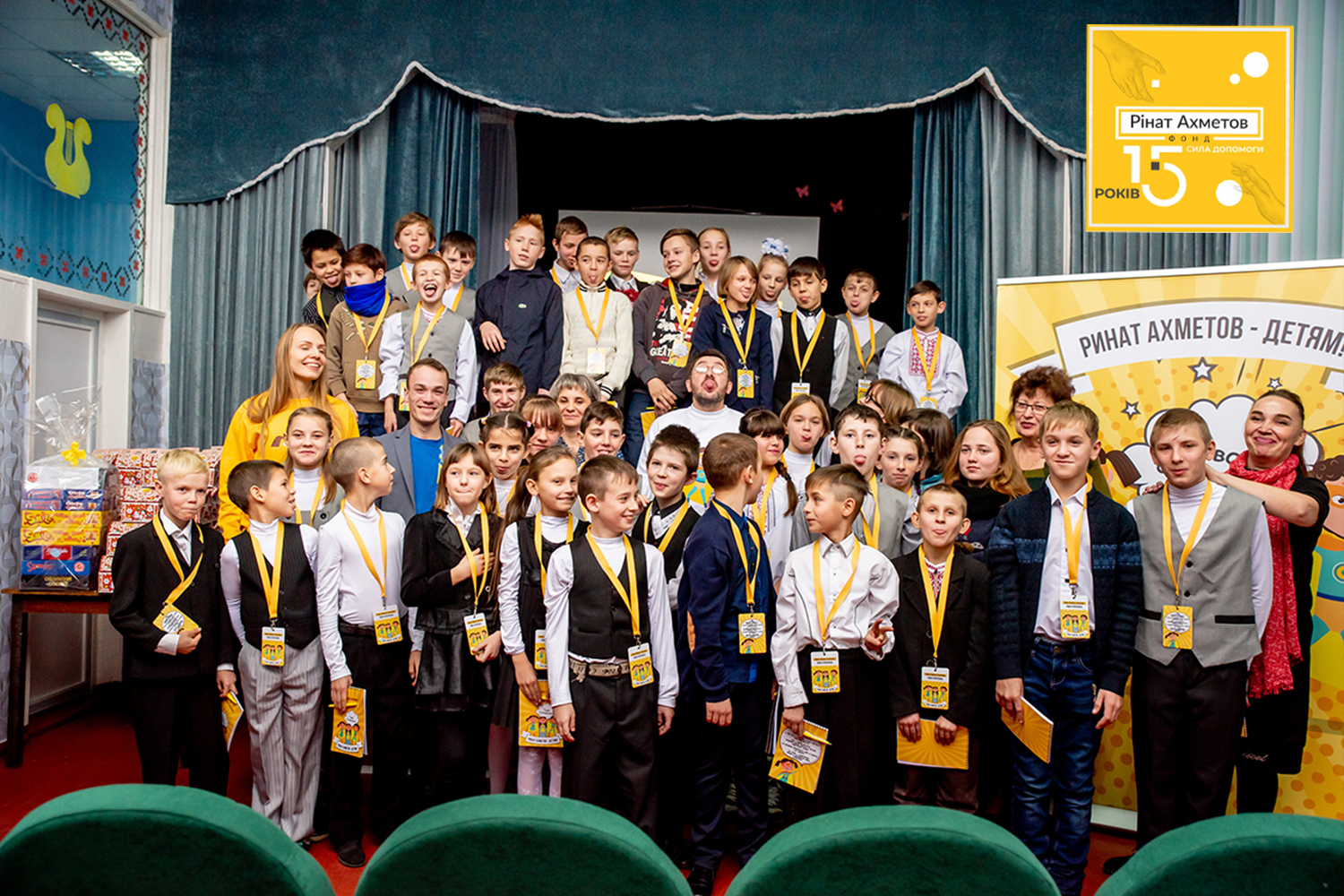 Lisa Kubrak from the sanatorium (boarding school) in Oleksiievo-Druzhkivka was so inspired by motivational meetings that she firmly decided to bring her dream of becoming a writer into life. She took part in all stages of the project and received a motivating gift from the Foundation – a master class from the Ukrainian writer Mariya Minyailo from Kyiv. Mariya told Lisa about her creative path and revealed some of the secrets of professional writing intrinsics. A few months later, Lisa wrote a book!
"I am very happy and grateful to Rinat Akhmetov for this gift. It's great that there are people who care about the fate of children. We really appreciate this," Lisa said.
Tanya Matrosova from the Guardianship Center of Mariupol wanted to become a singer more than anything. She kept timid dreams secretly. And having met with TV stars and being inspired by their success stories, she decided to tell the world about her desire. The Rinat Akhmetov Foundation helped the young singer to reveal her talent and take the first step towards her dream. Tanya was given the opportunity to record her first song in a professional studio.
"I don't know how to give utterance to what I feel. I am overwhelmed with emotion. I am deeply grateful to Rinat Akhmetov!" Tanya said after receiving the gift.
Katya Lytovka from Oleksiievo-Druzhkivka Boarding School dreamed of becoming a veterinarian. The Foundation organized a tour to a veterinary clinic for her, where the girl was able to feel like a real doctor for animals. Katya could barely keep her emotions under control:
"Today is the best day of my life! I have believed in miracles today! Now I know for certain that I will be a veterinarian.
Throughout the duration of the project, teenagers searched for their talents, gained knowledge about how to choose a profession, passed career guidance tests, got acquainted with the alphabet of various specialities, and studied the competencies that are necessary for a particular job. In the second season, children learned how to make a resume and got an idea of how to pass an interview. Each motivational meeting ended with a questionnaire of the participants. This allowed us to understand the interests of teenagers and determine the professions they find most interesting. The preference rating includes: hair stylist, barista, medical professional, video blogger, and photographer. Therefore, in order to fully reveal their peculiarities, training stations were organized, where each participant of the project was able to get applied skills under the guidance of specific specialists.
"It is very interesting and useful. The Foundation helps us not to make mistakes in selecting a future profession, since it is very important in the future to find a job that will not only bring money but also pleasure," Nastya Bezruk from Mariupol Boarding School No. 2 says.
Nadiya Herman, a psychologist at Guardianship Center, a mixed-type children's home in Mariupol, believes that the skills that children get by communicating with specific specialists will definitely be useful to them in life, even if they do not become part of their profession.
"The children are sincerely happy about these meetings. They even clap their hands with excitement. This is because the opportunity to see people on TV and hear their success stories is invaluable. I would like to express my gratitude to Mr. Akhmetov for doing so much for children, especially for these meetings that expand social space," Nadiya Herman said.
Facilitator of Mariupol Boarding School No. 2 Lyudmila Shukhman is certain that the project Rinat Akhmetov to Children. Your Superpower changed children:
"Every time the Foundation comes with a motivational meeting, I see that children are opening up more and more. This is very significant, because communication with happy adults is very necessary for our children. This is what they miss the most in life. We have great teachers, but they are people who work with children constantly. They need people on the outside. Furthermore, the ambassadors of the Foundation come to charge children with good and positive energy.
Since December 2018, the ambassadors of the Rinat Akhmetov Foundation have held 41 motivational meetings in 9 residential institutions of Donetsk Oblats, which were attended by 1065 children. 19 pupils of boarding schools received motivational gifts-excursions, sports equipment, books, and master classes.
The team of ambassadors of the Foundation consists of 10 people. These are TV presenters Hryhoriy Herman, Oleh Panyuta, Andriy Debrin, Ihor Pupkov, Oleksiy Sukhanov, Maksym Sikora and Maryna Kukhar, artists Oleh Maslyuk and Andriy Burym and the country's most famous sports journalist Oleksandr Denysov.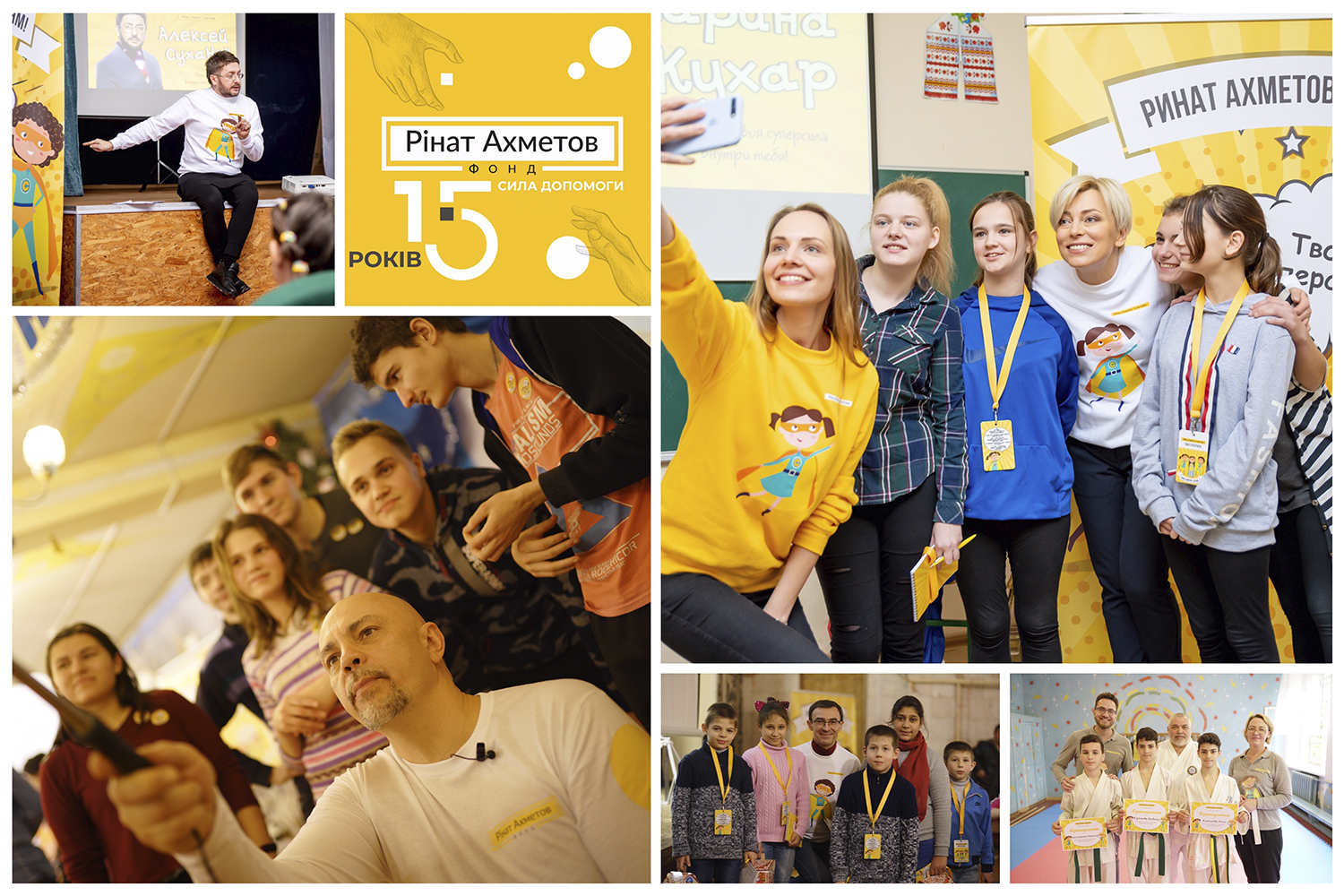 "The list of Rinat Akhmetov's good deeds may be extended almost endlessly. But you know what I really admire? Rinat Akhmetov does all this wholeheartedly, with a great desire to help each individual change for the better and save the lives of many people," Oleksiy Sukhanov said.
Oleksandr Denisov says this about the role of ambassador of good will:
"It is a great honor to be a part of this story.
Volodymyr Vovk, Deputy Director of the Department of Children's Rights and Health of the Ministry of Social Policy of Ukraine, noted the significant contribution of the Rinat Akhmetov Foundation to the development of new forms of work with children from boarding schools.
"Ten years ago, we did not dream that Ukraine would develop the institution of adoption, that mentoring, patronage, and narrowly focused social work specialists. There wasn't even a legal framework. Now these are the components of state policy. However, we also need new forms of work regarding the problems of adoption and adaptation of children who have not found their family yet. The project of the Rinat Akhmetov Foundation is aimed at solving these problems," Volodymyr Vovk said.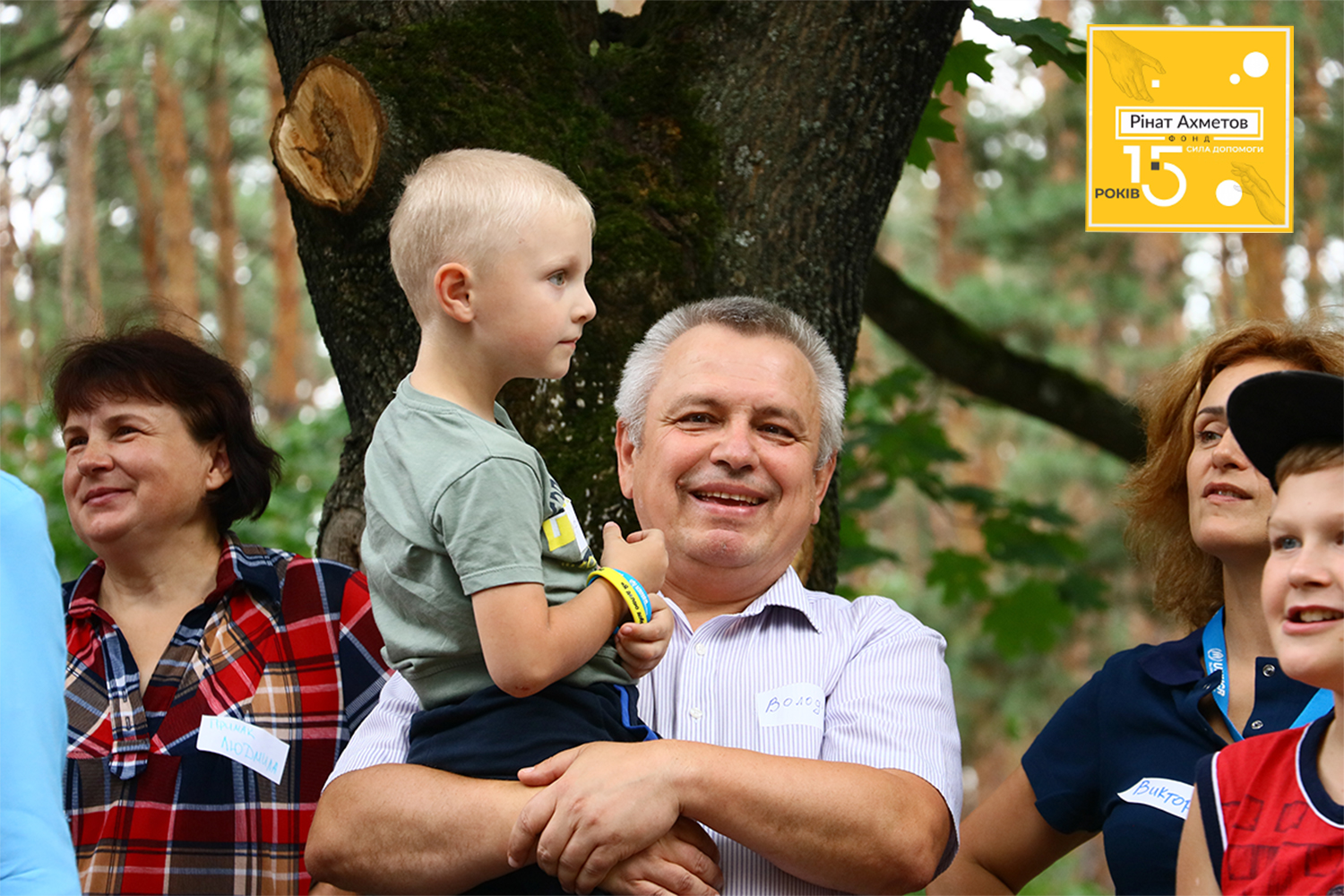 Project and Program Manager of the Foundation, Oksana Ishchuk, notes that the results of the project Rinat Akhmetov to Children. Your Superpower are already visible:
"The number of project participants who have decided on their future profession has increased by more than 20% in just a year. Children have acquired important skills: not to be afraid of the future, believe in themselves, dream and achieve their goals.