New Year Campaign Rinat Akhmetov for Children! – Longstanding Tradition of Kindness and Joy
19.11.2021
The Campaign Rinat Akhmetov for Children! is a personal initiative of Rinat Akhmetov. This tradition is over 20 years old. During the Campaign's lifetime, its format changed, but its purpose and philosophy remained the same – to give warmth and care to children. The longest and largest-scale New Year charity tradition began on 16 November 2001. Back then Rinat Akhmetov for the first time visited children in boarding schools and orphanages and saw how they were waiting for a miracle.
'Help to those who really need it cannot be postponed. We have been taught that children are our future, and we truly believed in this. But this is not quite true. Children are our present, and we are responsible for the future, for their future,' said Rinat Akhmetov, the founder of the Campaign and the Foundation.
In the last 14 years alone, almost 1,000,000 children received gifts from Rinat Akhmetov. In addition, during all these years, within the framework of the Campaign, large-scale and systematic assistance in various formats has been provided to boarding schools and their students throughout a year.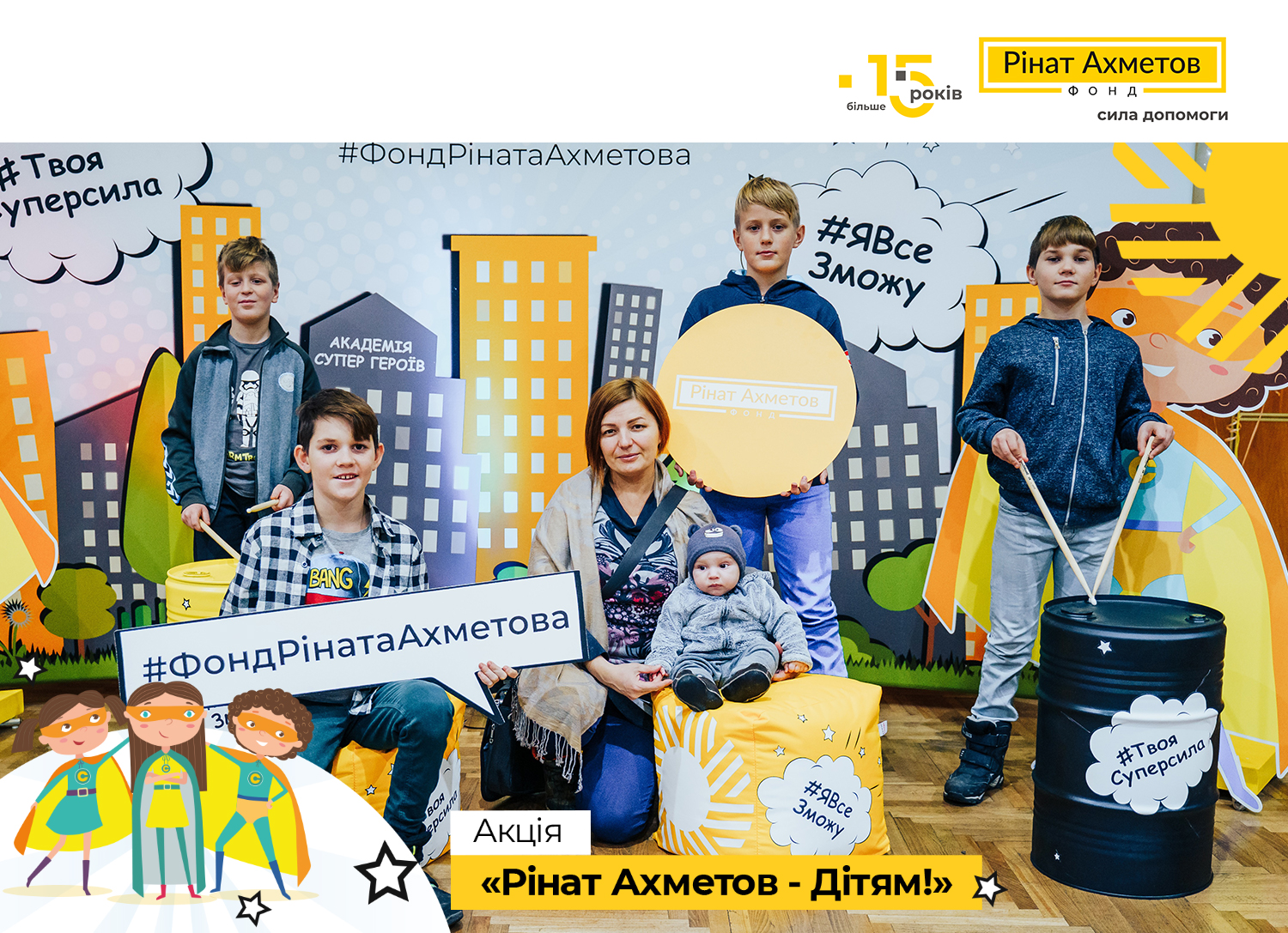 'The Campaign Rinat Akhmetov for Children! focuses on children who are deprived of parental warmth. It is very important to help them open up their abilities and empower them with faith that they can achieve their goals and change the world for the better,' said Iryna Blazhan, Project and Program Chief Director of the Rinat Akhmetov Foundation.
This year, almost 100,000 children will receive gifts and congratulations from Rinat Akhmetov on the eve of the New Year holidays. In addition to the gifts, a New Year Tree and other pleasant surprises are planned for children in Mariupol. A mother of many children Natalya Sydorenko regularly brings her sons and daughters to the holiday celebrations held under the auspices of the Campaign Rinat Akhmetov for Children!
'For us, it has become one of the New Year's traditions. They have been unchanged for several years now: to decorate a New Year Tree, to lay the holiday table, to go to the holiday celebration from Rinat Akhmetov,' the woman said.
Starting from December 2018, the Campaign was supplemented by a new format – motivational meetings with teenagers, which then transformed into a unique project Rinat Akhmetov for Children. Your Superpower. The meetings were held under the slogan Your Superprofession. Then pupils of five boarding schools of Donetsk region discussed in detail their values, learned to look for their place and discover their talents. They gained knowledge on how to choose a profession, passed future career guidance tests, tried themselves in five popular and in-demand professions.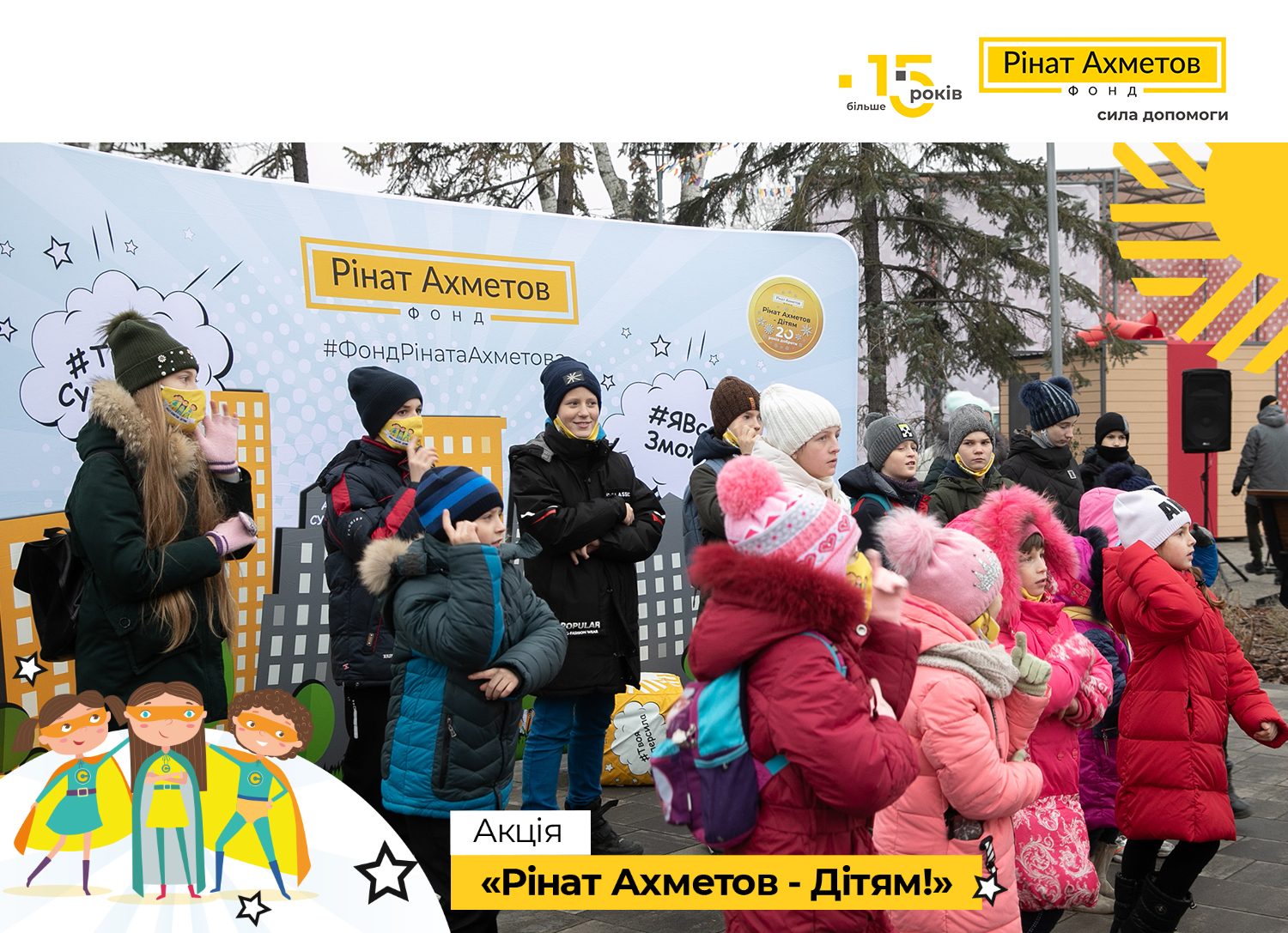 In addition, this year the Rinat Akhmetov Foundation plans to hold motivational meetings as live broadcast in the format of a blitz lesson Your Superprofession for teenagers from all over Ukraine. Schoolchildren will not only get acquainted with popular and well-known representatives of various professions, but also discover their own talents that will empower them to be successful and happy.
In addition, filming of the second season of TV series Your Superprofession will start soon. In essence, the series is a new online format of the project, which is primarily aimed at adolescents who need to make a lot of effort in this life in order to realize their potential in the professional sphere.